PT Batam Maritime Center signs MoU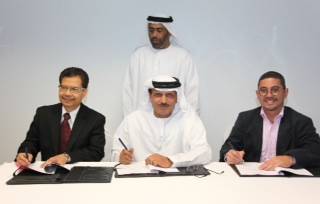 PT Batam Maritime Center – a member of Drydocks World Group- a maritime service provider in the region, has signed a Memorandum of Understanding with Indonesia based PT Bina Bangun Bahari, a company engaged in engineering, fabrication, construction and infrastructure to implement a cooperation agreement for management of land in Batam, Indonesia.

Commenting on the sustained interest in contributing to the development of Indonesia, "We are immensely pleased to be contributing to the development of Indonesia, which is one of Asia's rapidly developing economies in the world with extensive potential due to its massive urbanization, growing purchasing power and openness to trade and investment. In order to maintain and to sustain this economic growth, Indonesia would require rapid development in infrastructure and downstream industries. Having these opportunities, we have had continued interest to take part in the development of the country and in extending our support towards infrastructure progress for enhancing national and private sector productivity."

The MoU will be implemented by a team with members from both companies. There would be a move to arrive at a framework for a Joint Venture to implement the project. This new joint venture will bring a new investment of approximately USD 2.5 billion that can contribute to Indonesia's economic development program.