India Fosters Growth in its Maritime Sector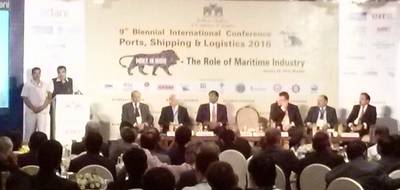 The Indian government's has been going all out to put the growth of the Indian maritime Industry on a fast track by opening up a host of opportunities, offering goodies and putting in place new facilities. Setting the tone for his keynote address at the 9th Biennial International Conference on Ports, Shipping & Logistics organized by the Bombay Chamber of Commerce & Industry at the Taj Mahal Hotel, Mumbai, Nitin Gadkari, Union Ministry of Road Transport, Highways and Shipping, government of India assured his all out support to the head honchos of ship owning, ship manning, logistic companies, and other players of the Maritime Industry who had gathered in great number to attend the major event and to deliberate on the important issues under the theme "Make in India- Role of Maritime Industry".

"The policy of the government is to encourage private players to take the initiative and make the most of the various schemes and facilities that his ministry has provided. The government is going ahead with port state development and wants to encourage movement of oil from the refineries via the rivers waterways he informed.

"The government has already taken a decision with regards ship building and we will give 20% subsidy to this industry in order to make ship building economically viable," he stated. "We have also given the ship building industry infrastructure status thus making it easy for them to get maximum benefit from the bank including obtain long term loans for 20-25 years and access overseas loans too.

"Under the Sagar Mala we have decided plans to develop the fishing. Now the area within 12 nautical miles is with the state government and there is lot of competition. So we are encouraging fishing beyond the 12 these nautical miles. For improving water transport we are trying to develop marine terminals, RoRo services, marinas, promote operation of seaplanes catamarans for all this we expect the private operators to come forward to invest. We are trying our level best to improve the employment potential, reduce logistic cost. We therefore plan to increase the draft of the port to 18 meters, which will allow bigger ships to berth and thereby help to reduce the logistic cost. By this we expect a reduction of $ 20 to $25 per ton for import / export cargo in the total cost.

"The ministry has decided to enhance the draft of the Paradip, Ennore, Goa and Kandla ports. We have already taken a decision this year to start three new major ports.One is at Colachel in Tamil Nadu, the second at Sagar in West Bengal and third at Dahanur, Wadhwad in Maharashtra" He highlighted other projects that are underway. To promote tourism the government was developing 180 light houses spread all over the Indian coast. The port based Special Economic Zone at JNPT they are already getting the capital investment of Rs 2,000 crores."

There were Key Observations and Recommendations from the Industry Survey conducted by Deloitte India that were presented by Vishwas Udgirkar, Consulting Head of the Infrastructure Division. This was followed by representatives from the French Customs personnel including Mireillie Romboni-Lasserre, French Regional Customs Counsellor for Asia / Pacific and Pascal Ollivier, Director – Corporate Development, SOGET S.A., They gave interesting insights in bringing down transactional cost and increasing efficiency at the customs and other areas of operations.

A lively panel discussion followed Chaired by Tushar Jani, Chairman of Blue Dart Express Ltd. The panel member included Mireillie Romboni-Lasserre, French Regional Customs Counsellor for Asia / Pacific, Pascal Ollivier, Director – Corporate Development, SOGET S.A., Kevin D'Souza, Director, Comm & Business Development, DP World, Subcontinent, Banibrata Bhattacharya, IRS Principal Commissioner of Customs, Mumbai and Audrey Dolhen, Managing Director, CMA CGM India.

The suggestions and recommendation made and discussions that took place were about reserving 50% of Public sector Unit (PSU) cargo for Indian flag vessels. What this meant was according to S. Hajara, Ex CMD of the Shipping Corporation of India is that it would not likely to see the light of the day for various reasons. He pointed out that when he took this up as the Chairman of the CII's committee he pointed out that no doubt it can be done, it would be a win-win situation because with the given payment security mechanism the finance cost which is the most important cost for the shipping industry would come down because obviously with such a payment security situation in place the margin which the lender is willing to lend will definitely come down to some extent. This will not only benefit the ship owners but it will benefit the cargo owners by bringing down their cost of transportation.

It was the contention that instead of all the cargo being handled by Indian vessel, it would make a bid difference even if just two commodities were reserved for the Indian bottom, viz., crude oil and thermal coal. These were two items that get imported into India to the extent of close to 200 million tons. "Even though COAL India was to increase their production, the coal imports will come down still coal will continue to be imported into India for a very long time. So if only these two items can be tackled then this itself will do lot of good for Indian shipping
It was noted that Trevedi the Chairman of Inland Waterways has given lot of impetus to the transporting by waterway at Haldia / Sagar. Thus, at least now there is one area something has started. Also more cargo was expected to come on to waterways from Tatas and other private plants to add another 10 million tons. It is a debatable point not to look only at dredging and concentrate on transporting to make cost effecting.

The second panel that was chaired by Rajeeva Sinha, Adani Ports & SEZ Ltd was in agreement about the improved infrastructure. However, rapid transport and seamless movement of goods were still not taking place. Capt A. K. Singh, CEO, Adani Dahej & Hazira Ports pointed out that there was a need for greater frequency of rakes. But the trade's bone of contention was the mid-stream change in policy. Umesh Grover, Advisor of Allcargo Logistics Ltd., stated that the growing number of CFSs which are an extension of ports helped in promoting eInvoices, eDeliveries, eDocumentation, and tracking of the consignments. Kamal Jain, IRTS, CGM – Western Region, CONCOR pointed out that time effectiveness and reducing logistic cost was essential for bringing down project cost. He looked forward to the dedicated rail corridors becoming a reality which were expected to be in place by 2018.

There was presentation on sustainability which helped to realize that the world can be sustainable only through water transportation. In this presentation there was mention about some shipping contributes to about 4% to green house emissions. But when we look at the fact that shipping transports more than 90% of the world international trade which goes by sea then obviously it must be realized that 2% and 4% is fantastic because we are doubling efficiency in terms of carbon footprint in terms of GHG emission vis-à-vis railway and shipping is more than 5 to 6 times more efficient than roadway and 100 time more efficient than aviation. Hence, to repeat this point it must be said that but for shipping with the present level of world trade our mother planet would have become inhabitable long time back. So it is only shipping which has kept the world sustainable for the humanity.

In the summation made by Mr Hajara, it was pointed out that India cannot anymore be ignored and foreign investment will flow in a very big way and this is already happening and this is expected to happen in a much bigger way. India's EXIM trade being under 3% of World trade in value there is greater focus on India. In terms of competence India was second to none and after all World's best ship managers and ship manning experts are showing the way and many of them are Indians. India ensures a reasonable return on capital which is only possible through ease of doing business.