ASRY in Maritime Deal with Relay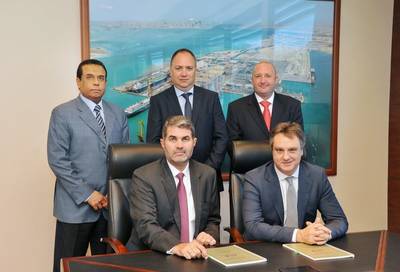 UK-based engineering firm signs service agreement to provide direct services to vessels in ASRY, expanding the list of the yard's onsite specialist contractors.

ASRY, the leading ship and rig repair yard in the Arabian Gulf, has signed a specialized Services Agreement with Relay Engineering Limited, a specialist engineering company based in the UK, to offer its expertise in electrical, mechanical and constructive engineering directly to ASRY's customers from a dedicated service point in the yard.

During a ceremony held at ASRY's headquarters, the major Service Agreement was signed under the umbrella of the ongoing Project Jupiter – an initiative to make ASRY the leading hub of onsite specialist contractors in the Arabian Gulf. The agreement will see Relay provide a dedicated service point in ASRY to offer its specialized electrical and instrumentation works on-boardvessels calling at the yard, in particular on Navy Vessels, Jack-up Rigs and barges.

ASRY Chief Executive, Nils Kristian Berge, commented, "with Relay Engineering joining the growing list of premium specialist contractors that are based onsite at ASRY, we take another step to providing the most comprehensive range of repair and maintenance services to our customers, particularly in the offshore and navy sectors. Our goal of being the region's one-stop shop for maritime maintenance is drawing closer thanks to partnerships with pioneers like Relay Engineering."

Relay Engineering Managing Director, Paul Fisher added that this step is a major achievement and with the new arrangement, ASRY will now turn to be a hub in the region from which Relay Engineering can offer its wide range of services to all customers visiting ASRY.

ASRY Procurement & Contracts General Manager,Magdy M. Moustafa, said that "The success in concluding a Specialized Services Agreement with Relay Engineering is a good sign that we are continuing to move on the right track ensuring presence of more and more specialized service providers in the Yard on long term basis under Project Jupiter".

Along with other senior ASRY officials, Relay Engineering General Manager, Andrew Wrankmore was present. As per the arrangement, ASRY can now make available the expertise and experience of Relay Engineering to its valuable customers at affordable prices whereas Relay Engineering has widened its global presence and will now have a dedicated Service Point in ASRY to service a greater variety of customers.