China Sends Maritime Safety Vessel Deep Sea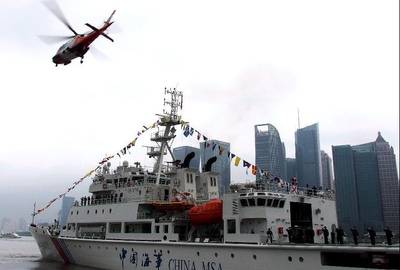 China's Ministry of Transport has dispatched "Haixun 01" from Shanghai to make goodwill visits to Australia, Indonesia, Myanmar and Malaysia.

The vessel will carry out communication activities and promote bilateral and multilateral drills and work exchanges, as well as share practical experiences.

"Haixun 01" is expected to arrive at Sydney port in Australia on June 22, and will then visit the three other countries in July.

Traveling a voyage of 13,909 nautical miles, the vessel is expected to return to Shanghai on Aug. 9.

"Haixun 01" entered service in April. With a tonnage of 5,418 tonnes, the 128.6-meter-long and 16-meter-wide vessel has a maximum sailing distance of 10,000 nautical miles (18,520 km) without refueling.

The vessel can accommodate 200 people rescued at sea and is equipped with medical treatment facilities. It also has a 360-square meter-helipad so airborne search and rescue missions can be carried out from it.

"Haixun 01" has equipment to intensify sound and water cannon systems in a bid to ensure safety especially under pirate assaults.