PC Maritime to Install ECDIS in 50-vessel China Shipping Deal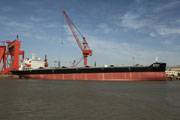 PC Maritime's Navmaster ECDIS has been chosen by China Shipping Group to be fitted to 50 newbuild bulk carriers.

This large ECDIS fleet contract was negotiated by Bogerd Martin NV's subsidiary company, Bogerd Martin China, based in Shanghai.

The vessels vary in size between 46,000 dwt and 76,000 dwt. Ten vessels already have single Navmaster ECDIS installed and the remaining 40 bulk carriers are to be equipped during the next 12 months. Later on, China Shipping Group intends to fit a second ECDIS onboard in order to go paperless.

U.K. marine software company PC Maritime has been steadily expanding distribution of its products to the Middle and Far East, with around 50% of ECDIS sales going to newbuild projects. The company's ECDIS training system is also widely installed in maritime colleges, capable of delivering both generic and type-specific training and interfaced to ship simulators from all the main simulator providers. Navmaster ECDIS hardware is manufactured in Birmingham by PC Maritime's partner, John Lilley & Gillie Ltd.