Marpol Vl Enough, UK MP's Say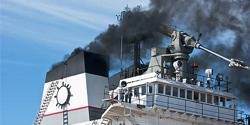 UK Governmet Parliamentary Committee urges EU not to exceed IMO requirements
In a report examing a draft EU directive aimed at further curbing maritime exhaust gas emissions, Louise Ellman, Chair of the Transport Committee said:
"We endorse the Government's support for the more stringent regulation of sulphur emissions contained within the revised Annex VI because it will markedly improve air quality and deliver significant health and environmental benefits. These regulations were agreed on a worldwide basis through the International Maritime Organisation after several years of discussion.
We believe that it's not appropriate for the Commission to go further than these globally-agreed limits by imposing tighter regulations on shipping operators at this time. We therefore endorse the UK Government's efforts to resist any additional requirements.
We do not agree, however, with the Minister's assertion that the Government will not negotiate with the Commission on its proposals; the Government will have to forge alliances with other Member States. We recommend that UK negotiators focus on removing the tighter emissions limits for passenger ships outside specified Emissions Control Areas and ensure that the directive replicates Annex VI safeguards regarding the non-availability of low-sulphur fuel."