MAN Diesel chooses Marseille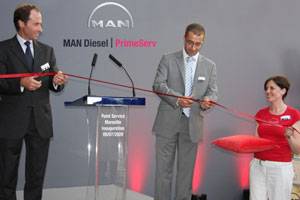 To further its long-term relations with local clients and partners, MAN Diesel inaugurated its new hub in Marseille, on Thursday 9 July. Dr. Timmermann, Member of the Executive Board of MAN Diesel SE and Rémi Leport, Site Manager of this new hub, cut the red ribbon together.

The Group's French site, MAN Diesel SAS, based in Villepinte and Saint-Nazaire, has been developing an after sales service activity over the last 50 years for the S.E.M.T. Pielstick brand and for the MAN Diesel brand since 2006.

At the heart of its development strategy, PrimeServ, the After Sales Service Business Unit of MAN Diesel, has been spreading out its presence all over the world, ensuring it is close to its customers. This growing network, acting as the spearhead of an expansive customer service related strategy, is currently made up of almost 80 hubs all over the world. The network is expanding at the rate of 10 new openings per year.

At the centre of Grand Port Maritime de Marseille, the MAN Diesel PrimeServ hub offers service on the whole range of MAN Diesel two-stroke and four-stroke products.

MAN Diesel PrimeServ hubs offer high-level diesel engine know-how to marine and industrial professionals, and provides engine service on board and on site.