Martime Propulsion: New Solutions Meet New Emission Demands
With a robust engine block designed for continuous-duty operation and long life, and a single cylinder head with four valves per cylinder, the Cummins X15 marine engine provides reduced fuel consumption without reduced performance. The X15, which can be used in both commercial and recreational marine applications, is available as a propulsion engine and as an auxiliary engine. (Photo: Cummins Inc.)
MAN CRYO, in cooperation with Fjord1 and Multi Maritime has developed a marine fuel-gas system for liquefied hydrogen. Image: MAN Cryo
The universally applicable Hatz H-series Silent Pack replaces engine compartment design and requires less space in the machine. (Photo: Motorenfabrik Hatz GmbH & Co. KG)
Marine propulsion manufacturers are not just responding to but are anticipating tighter performance demands from the U.S. EPA and the IMO by introducing both new and upgraded systems based on state-of-the-art propulsion technologies. Tom Mulligan reviews the latest engine product launches.
AIP for MAN cryo Liquid Hydrogen Fuel-Gas system
MAN Cryo, a subsidiary of MAN Energy Solutions, has developed a marine fuel-gas system for liquefied hydrogen in cooperation with Fjord1 and Multi Maritime 0f Norway. Multi Maritime's hydrogen vessel design for Fjord1, including the fully integrated 'MAN Cryo – Hydrogen Fuel Gas System,' which was granted preliminary approval in principle, "AIP," by the DNV-GL, significant in that the system is the first marine-system design globally to secure such an approval.
"As a solution for vessels employed on relatively short maritime routes, such as ferries, this technology is a world-first," said Dr. Uwe Lauber, CEO, MAN Energy Solutions. "Hydrogen is a clean fuel whose profile fits perfectly with the general desire within the industry to move towards cleaner technology."
MAN Cryo developed the Liquid Hydrogen Marine Fuel Gas System design in-house at its headquarters in Gothenburg, Sweden. The system has a scalable design that allows easy adaptation for different shipping types, sizes and conditions. The design is suited for both above- and below-deck applications, offering ship designers the flexibility to optimise their designs in relation to efficiency, and to cargo or passenger space.
Liquefied hydrogen has a temperature of -253° Celsius and is one of the coldest cryogenic gases there is, which places system components and materials under extreme stresses. Another design challenge was hydrogen's explosive nature, with the MAN Cryo engineering team accordingly placing top priority on safety. Once liquefied, hydrogen is reduced to 1/800th of its volume, compared to that of its gas phase, facilitating a more-efficient distribution. As a fuel, hydrogen does not release any CO2 and can play an important role in the transition to a clean, low-carbon, energy system. Liquefied hydrogen can be used to charge batteries for electrical propulsion via fuel-cell technology.

SCR system for Baudouin Advanced Engines
Cassis, France-headquartered Moteurs Baudouin is offering an innovative Selective Catalyst Reduction (SCR) system on its range of Advanced Engines to enable compliance with the latest IMO and EPA standards including the IMO's 2016 demand for further reductions of NOx emissions in some areas of the world. The company's Advanced Engines with SCR offer a cleaner engine without compromising on power, the company claims, with an up to 2% reduction in average fuel consumption and up to 25dB noise reduction, all with a compact, modular design. The Baudouin SCR system is small, light and flexible, thereby reducing costs and space requirements while maximizing product reliability.
Engine system designers can choose to place the tank, pump and cabinet up to 60 meters away from the catalyst and the system can be installed over the gearbox, over the engine, or in a stand-alone configuration which gives freedom and flexibility for both newbuilds and repowering projects.
Moteurs Baudouin is owned by Chinese company Weichai Power Co. Ltd. and as well as its French facility has additional manufacturing based in Weifang, Shandong Province, China and product sales and servicing available in more than 130 countries worldwide, across six continents.
The operational compliance of Baudouin Advanced Engines with the latest IMO and EPA standards is achieved through the use of an innovative Selective Catalyst Reduction (SCR) system on offer from the company. (Photo: Moteurs Baudouin)
Rolls-Royce battery system powers marine propulsion
Rolls-Royce has launched a new lithium-ion-based energy storage system to provide shipowners with a complete clean, safe and cost-efficient system that includes intelligent power control. The company has been delivering energy storage systems since 2010, however the actual energy storage units were previously supplied by an external party and the company is now offering its SAVe Energy system, a cost-competitive, highly efficient and liquid cooled battery system with a modular design that enables the product to scale according to energy and power requirements. SAVe Energy complies with international legislation and regulations for low- and zero-emission propulsion systems.
The development of the system was partly funded by the Norwegian Research Council of Norway's ENERGIX program. Three shipowners, Color Line, Norled and the Norwegian Coastal Administration Shipping Company, were partners in the development, ensuring that the energy storage system covered a wide variety of marine applications, including ferries, cruise vessels and multi-purpose vessels.
SAVe Energy is delivered from the Rolls-Royce Power Electric site in Bergen, Norway as part of the company's offering of complete ship systems. The potential deployment of the patent-pending SAVe Energy system in 2019 is estimated to be in the 10-18 MWh range.
SAVe Energy can be applied to several areas, including peak shaving, spinning reserve and battery-powered vessels. Combined with an LNG- or diesel-powered engine in a hybrid solution, it will increase efficiency and reduce emissions, and can be coupled with most types of propulsion units.
In a hybrid set-up, SAVe Energy handles the peak load, while the main power generators will relate to the average load and not reduce the propulsion units' thrusting capabilities.
SAVe Energy is classed as an Energy Storage Unit system (ESU), and was recently class-approved by DNV GL, confirming that it had been developed in compliance with the newest 2018 ruleset, and is acceptable for installation on all vessels classed by DNV GL.
YANMAR launches 4LV sterndrive common-rail diesel engines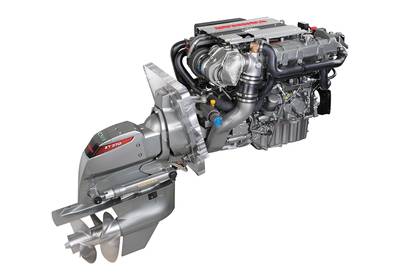 The new 150 to 250 mhp five-engine 4LV sterndrive marine diesel engine range combines with the YANMAR ZT370 sterndrive to offer high acceleration, fuel efficiency, quiet operation and low vibration to suit a wide variety of vessels. (Photo: Yanmar Marine International)
YANMAR MARINE INTERNATIONAL has launched a full line-up of 4LV sterndrive marine diesel engine models to complete its 4LV series of ultra-refined common rail (CR) engines. The new 150 to 250 mhp five-engine range combines with the YANMAR ZT370 sterndrive to offer high acceleration, fuel efficiency, quiet operation and low vibration to suit a wide variety of vessels.
Complementing the YANMAR 4LV inboard engine range introduced earlier this year, the corresponding 150Z/170Z/195Z/230Z/250Z mhp sterndrive models feature the latest in electronically-managed CR fuel injection systems and the next-generation system uses Thermo Swing Wall Insulation technology to provide maximum thermal efficiency, leading to more complete combustion and more efficient fuel consumption, torque and lowered emissions. The 150 to 250 mhp power range marine diesel engines are all based on an identical engine block with the same dimensions and weight, making it easy for boatbuilders to install various options.
The new models are fitted with the YANMAR ZT370 sterndrive with hydraulic multi-disc clutch for smooth and quiet gear engagement, plus a standard EXO hard-anodization coating to provide protection against corrosion. Ensuring optimal performance for a range of boats for recreational and light-duty commercial applications, the ZT370 sterndrive is available in various gear ratios. Other features include precision-forged gears with extra-long service life, the choice of electrical or mechanical shift models, and an integrated exhaust system.
All YANMAR 4LV engines with ZT370 sterndrive offer a selection of control systems, including full electronic or standard mechanical controls for commercial and recreational applications, and the models are also available with the YANMAR JC10 joystick system for easy maneuvring. Offering customers a simple display solution, the YANMAR NMEA connection ensures engine data are available for all NMEA 2000 compatible multi-function display units. All models exceed both EPA Tier 3 and EU RCD Tier 2 emissions regulations, being virtually smoke- and odor-free.
New Silent Pack for Hatz H-series engines
Motorenfabrik Hatz recently introduced the New Silent Pack for its H-series of three- and four-cylinder engines. The plug-and-play solution combines sound insulation of more than 60% with protection against contact, rain, dirt or vandalism, and is based on open power unit (OPU) engines, meaning that it can be ordered as complete and ready-to-install ex works. The New Silent Pack can also be used to retrofit existing machines. The New Silent Pack has a modular structure and is suitable for the Hatz H-series engines 3H50TI, 3H50TIC, 3H50TICD, 4H50TI, 4H50TIC and 4H50TICD. Because of this universal design, it is very easy to include it in the machine structure or to equip machines with different engines with the same encapsulation. Virtually all its parts are identical for all H-series engine variations and a suitable cover for the diesel particulate filter (DPF) is available for the EU Stage V-compliant Hatz TICD models. The maintenance hoods are adapted to the dimensions of the three- and four-cylinder engines. The New Silent Pack has been redesigned from the ground up and offers significant benefits to both machine manufacturers and operating companies: the low weight of less than 100 kg supports, in particular, manufacturers that need to keep their machines as light as possible. In the three-cylinder TI and TIC model versions, the encapsulation weighs only 91 kg, while in the largest version, the Hatz 4H50TICD, the encapsulation weighs 98 kg.
As regards the dimensions, those of the encapsulation were reduced by more than 10% compared to the predecessor during development. In addition, Hatz has striven for the greatest possible ease of maintenance with the New Silent Pack as the maintenance opening can be quickly and easily removed and provides easy access to the operating side and top side, making all maintenance points such as the oil filter, oil dipstick, oil filler neck and main fuel filter easily accessible.

Cummins introduces X15 marine engines
Cummins Inc. has introduced a version of its X15 engine for marine applications. The Cummins X15 is designed to withstand the high-hour, continuous-duty operation demanded by inland waterways, commercial fishing and passenger transportation vessels.
The marine X15 engine is suitable for newbuilds and repowers.
The X15 features variable- and fixed-speed ratings between 450 and 600 hp (336 and 447 kW) while meeting U.S. EPA Tier 3 and IMO Tier 2 emissions standards. The X15 utilizes the latest Cummins fuel system technology, XPI, designed to provide an efficient fuel burn for clean emissions and optimized fuel economy. In addition, the X15 for marine uses the CM2350 Cummins engine control module to provide advanced diagnostic and monitoring capability, including de-rates and automated engine shut downs to prevent catastrophic failures.
www.cummins.com/marine

Upgraded Wärtsilä 20
Wärtsilä reports receiving a number of orders for the upgraded version of its Wärtsilä 20 engine, with more than 30 engines having been ordered for merchant auxiliary power applications in three major shipbuilding projects. The orders have been contracted with Wärtsilä Qiyao Diesel Company Ltd. (WQDC), the joint venture company of Wärtsilä and Shanghai Marine Diesel Engine Research Institute. The contracts cover three engines for four Very Large Crude Carriers (VLCCs) being built at CSIC's Dalian Shipbuilding Industry Corporation (DSIC) shipyard for China COSCO Shipping Energy; three engines for each of three Suezmax Oil Tankers being built at DSIC for China COSCO Shipping Energy; and three engines for each of four Large Ore Carriers (VLOC) being built at CSIC's Tianjin Xingang shipyard for COSCO Shipping Bulk. The Wärtsilä input includes complete auxiliary generating sets and all related engineering, with delivery of the equipment beginning in 2019.