GSL Builds Fast Attack Crafts for Mauritius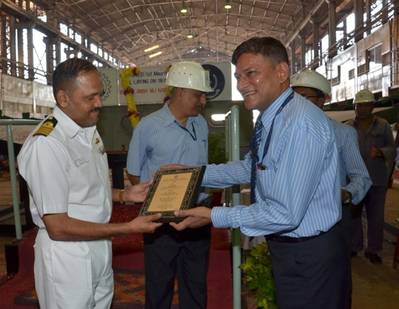 The keel laying ceremony for first of the series of Two Water Jet Fast Attack Crafts (WJFAC) being built by GSL for Mauritius Police Force was held at GSL on December 18, 2014.
Capt. Anish Nair, Warship Production Superintendent (WPS), Goa did the honors in the presence of Rear Adm. Shekhar Mital, NM, IN (Retd) Chairman and Managing Director, GSL. Senior Officials of GSL were also present on the occasion.
The contract for the export order was signed on May 7, 2014 in Port Louis, Mauritius by Mrs. K. O. Fong Weng-Poorun, Senior Chief Executive of the Prime Minister's Office and Rear Adm. Shekhar Mital, NM, IN (Retd), CMD GSL in presence of Shri A K M Mudgal, the High Commissioner of India.
The Fast Attack Craft measuring 50-meter with a speed of 35 knots is propelled by three main engines and water jet. It is a state-of-the-art vessel in terms of capabilities and can function in a diverse manner for defense and protection work, survey,
pollution control
, coastal patrol, anti-smuggling, anti-poaching activities, search and rescue, fisheries protection and monitoring of foreign chartered trawlers, amongst others. The basic design is based on proven in-house design of GSL which has been modified to meet the specific requirements of Mauritius Police Force.
GSL had earlier signed a contract with Government of Mauritius for construction and delivery of 11 Fast Interceptor Boats (FIB). The Keel for the FIBs, being built by GSL for Govt. of Mauritius was laid on June 2, 2014 at GSL Unit II, Sancoale.