DMCA Adopts Cruise Safety Measures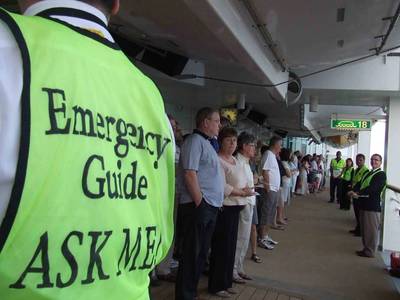 Dubai Maritime City Authority adopts best practices to increase safety and security of cruise ships. New measures implemented in collaboration with Dubai Tourism & Commerce Marketing.

Dubai Maritime City Authority (DMCA), the maritime government entity charged with regulating, coordinating and supervising the maritime sector in Dubai, has announced the establishment of a cruise ship task force in line with its continued efforts to ensure the safety of cruise ships arriving in Dubai and to reinforce Dubai's preparedness to deal with potential maritime accidents. The cruise ship task force has been established in collaboration with Dubai Tourism & Commerce Marketing (DTCM).

DMCA further revealed that it is intensifying maritime inspections to ensure that cruise ships comply with maritime standards and to create awareness among ship owners and cruise operators about the need to improve the performance of cruise ships according to best practices in the industry.

Hamad bin Mejren, DTCM Executive Director for Business Tourism, said: "Dubai is keen to adopt best practices related to the safety of cruise ships, in line with international standards and norms. DTCM has partnered with DMCA as part of our commitment to ensure that cruise trips from Dubai will set a global standard in terms of safety and readiness to handle various eventualities, as well as to provide world-class logistical and technical support to the cruise ships."
DMCA is cooperating with the Ports Police, Civil Defense, Dubai Ports Security, Customs Security and Free Zones Security, ship agencies, DP World and the National Authority for the Management of Emergencies and Crises to strictly enforce the maritime regulations. Moreover, DMCA has ordered all cruise ships to carry out evacuation exercises before leaving Dubai to ensure that the crew is fully prepared in case of accidents.

"Safety is very important in the cruise ship industry. For this reason, DMCA constantly works to review and update local laws, to ensure compliance and adherence to best practices and international standards. It is important that all industry stakeholders must work as a team to achieve our goal of putting Dubai on the global maritime map as a safe tourist destination, while enhancing Dubai's preparedness to face any eventuality," said Ali Al Daboos, Executive Director of DMCA.

Other key measures adopted by DMCA include gauging incident command system maritime domain awareness of stakeholders, compiling of cruise sector and shore side response Gap Analysis; and discussing with DMCA partners the Maritime Strategy Work Shops regarding the cruise sector. DMCA also conducts inspections before authorizing ships to sail to check the readiness of the crew and their commitment to emergency procedures.