Coast Guard Medevacs Tanker Crewman with Severed Finger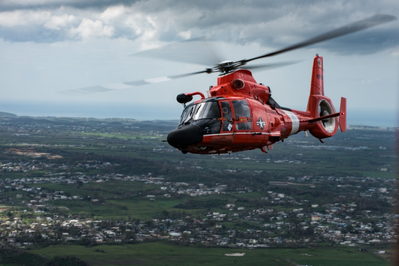 A U.S. Coast Guard helicopter crew medevaced a man Wednesday afternoon from the 392-foot Maltese-flagged tank ship Emek-S, approximately 28 nautical miles southwest of Cabo Rojo, Puerto Rico.
Coast Guard watchstanders in Sector San Juan received a call from the captain of the Emek-S at 3:08 p.m. stating that a crewmember, who was a Turkish citizen, had lost part of his left hand's middle finger two hours earlier.

The watchstanders notified the Air Station Borinquen flight surgeon, who recommended medevacking the patient as soon as possible to a local hospital in an attempt to reattach the man's finger.

Upon the Coast Guard's helicopter arrival on scene, the crew lowered the aircraft's rescue swimmer to the Emek-S, who ensured the man was stable and secured to the aircraft rescue litter before he was hoisted to the helicopter.

The helicopter crew hoisted the man at 4:42 p.m, and safely transported him to the Isla Grande Airport in San Juan, Puerto Rico, where he was received by awaiting Emergency Medical Service personnel and transported to the Centro Medico Hospital for further medical care.