WaPo: Two German CEOs Launching Own Mediterranean Rescue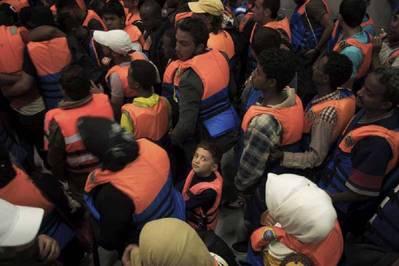 The Washington Post has a story today about two German men who are launching their own rescue mission to save migrants crossing the Mediterranean.
Harald Höppner and Matthias Kuhnt are two CEOs of a mid-size company in eastern Germany. According to the Post, the two have invested $162,000 since October into a 21-meter vessel that they are going to use to conduct a three-month mission patrolling the area between Libya and Italy, where the dangerous migration that has cost thousands of lives in recent years is concentrated.
"We have inflatable life rafts and drinking water for about 500 people on board," Kuhnt told the Post. "If we come across a boat in distress, we will [send an] alarm [to] the Italian or Maltese coast guard. The authorities will hardly be able to ignore a distress call from a German crew."
The two men said that dozens of volunteers have registered to help them on their mission. They have also set up a website about the project.
"We hope that thousands of Yacht owners in the Mediterranean Sea will become more aware of the problem due to our project. In Germany, our idea has already exceeded our expectations. Hundreds of people reach out to us every day and ask how they can contribute," Kuhnt said.
You can read the full story here.