OOCL Mega-Container Ship Named in Korea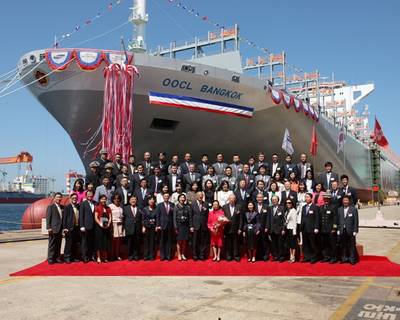 OOCL Bangkok took center stage at the Samsung Heavy Industries shipyard as the sponsor, Mrs. Betty Tung, delivered an Encomium that blessed the mega vessel, as well as her cargo and all the people who will sail with her.
In his ceremonial address, Mr. C. C. Tung, Chairman of Orient Overseas (International) Limited, thanked everyone who had contributed to the success of the newbuilding and highlighted the importance of the new mega vessels to OOCL. "In today's challenging global economic environment, the industry is becoming ever more competitive for ocean liners and everyone up and down the supply chain. Notwithstanding the turbulent times, OOCL continues to focus on delivering the best quality services to our customers, supported by state-of-the-art information technology and top-of-the-line shipping assets," said Mr Tung. 


"So that is why our investments in these 13 thousand TEU vessels will be an important part to improving our competitive edge as the new generation of ships are designed and built with better efficiency in mind," Mr Tung added.
Mrs. Tung was joined by her husband, Mr. Tung Chee Hwa, Vice Chairman of the National Committee of the Chinese People's Political Consultative Conference, People's Republic of China, as Guest of Honor.
The OOCL Bangkok will be serving the Asia-Europe trade on the Loop 5 service where her port rotation is: Kwangyang / Pusan / Shanghai / Ningbo / Yantian / Shekou / Singapore / via the Suez Canal to / Rotterdam / Hamburg / Southampton / via the Suez Canal to / Singapore and back to Kwangyang in a 77-day round trip.