Meyer Turku Cuts Steel for Royal Caribbean's Second Icon Class Ship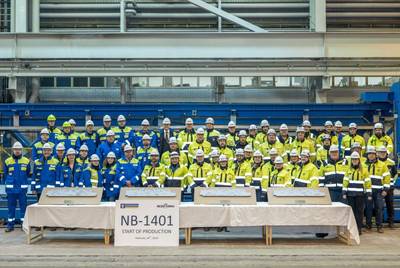 Finnish shipbuilder Meyer Turku on Wednesday held a steel cutting ceremony signaling the start of production on the Royal Caribbean Group's second Icon Class cruise ship.
Scheduled for delivery in 2025, the vessel will be named at a later date.
"Icon ships will be unprecedented both from the point of view of passenger experience and sustainable development. The construction of the second ship in the series, which has already started, further concretizes the long-term goals that Meyer Turku and Royal Caribbean Group have jointly committed to," said Tapani Pulli, Deputy CEO of Meyer Turku.
The lead ship of the Icon Class, the 365-meter-long, 250,800-gross-ton Icon of the Seas, is scheduled to be delivered later this year.
Meyer Turku and Royal Caribbean Group also have a construction contract for the third Icon-class ship, which will be completed in 2026.
All three Icon Class ships will be cable of running on cleaner burning liquefied natural gas (LNG) fuel.