US Helps Micronesia Boost Port Security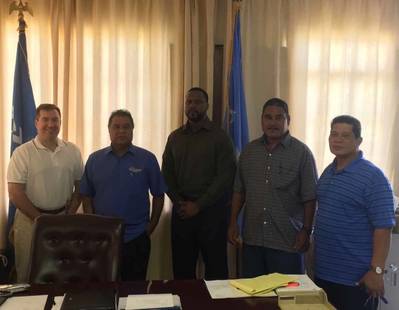 A U.S. Coast Guard International Port Security team in cooperation with officials from the Federated States of Micronesia's Department of Transportation, Communication and Infrastructure completed three days of port facility security seminars in March.
The engagement involved sharing best practices for conducting drills and exercises and to observe the implementation of the International Ship and Port Facility Security Code at Kosrae Okat Commercial Dock port facility in the Port of Kosrae.
"In a global economy, your security is our security," said Lt. Cmdr. Chester K. Warren, IPS liaison officer, U.S. Coast Guard Activities Far East. "The U.S. Coast Guard appreciates Micronesia's invitation and their commitment to improving port security."
Micronesia is not signatory to the ISPS Code, however, the U.S. has invested resources to assist the Federated States of Micronesia build the capacity to implement the ISPS Code to increase merchant trade.
When ISPS regulated ships make port calls at port facilities not signatory to the ISPS Code, the ship's security team has to take on additional responsibilities in order to comply with ISPS Code. With the costs of the additional security measures placed on the ships, costs for goods increase and perhaps deter trade altogether to avoid the additional security requirements.
The goals of the IPS Program seek to facilitate secure maritime commerce globally and prevent transnational crime organizations from exploiting the maritime domain.
In the
Asia-Pacific region
, the U.S. Coast Guard's Activities
Far East unit
coordinates with over 40 countries to execute these bilateral engagements. The U.S. Coast Guard is committed to promoting and facilitating safe and secure maritime trade.