Middle East Expo Sees More Deals Struck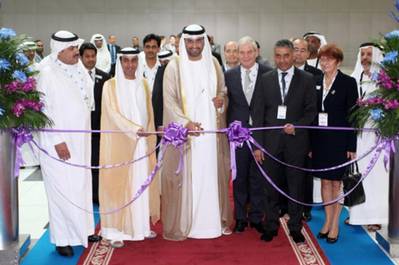 After a record-breaking opening day at the Middle East Workboats & Offshore Marine 2013, when six new contracts were signed on site, more were to follow, including a crew boat construction order for Grandweld.

The Middle East's largest shipbuilder Grandweld Shipyards secured a repeat order worth AED18.35 million to build a new 42 metre aluminum crew boat for Khalid Faraj Shipping. This is the third order received by Grandweld from Khalid Faraj Shipping over the last five months.

"The crew boat is based on Grandweld's existing proven design, and can reach speeds in excess of 26 knots. The vessel benefit from luxury seating, VIP accommodation, a larger deck space and enhanced crew comfort. With seating for 83 passengers, the vessel has a 110square metre loading area for over 90 tons of deck cargo," said Jamal S. Abki, general manager of Grandweld Shipyards.

"Our 42 metre fast aluminum crew boats have been a huge success with over 30 sister vessels delivered or currently under construction. As such Grandweld has become the leading provider for this class of vessel for an impressive list of regional and international clients," added Mr. Abki.

Middle East Workboats & Offshore Marine 2013, inaugurated by His Excellency Dr. Sultan Ahmed Al Jaber, Chairman of Abu Dhabi Ports Company, is a leading regional forum for owners, operators, industry professionals and suppliers, runs through until Wednesday 2 October at the Abu Dhabi National Exhibition Centre (ADNEC). The final day of the show will focus on dynamic positioning with a specific focus on power and control.