New Ferry Marks a Milestone for Incat Crowther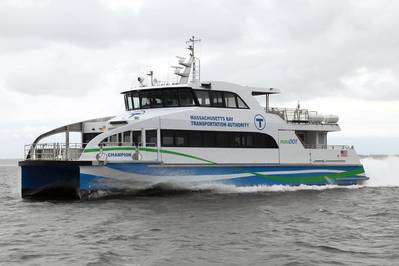 The latest passenger ferry constructed by Gladding-Hearn Shipbuilding for Massachusetts Bay Transit Authority signals a milestone delivery for marine design firm Incat Crowther. The 27-meter catamaran Champion marks the 500th vessel designed by Incat Crowther.

"To have successfully designed 500 large commercial vessels is no accident," said Incat Crowther CEO, Brett Crowther. "Incat Crowther will continue to invest in our people and process to deliver innovative yet practical technical solutions to our operators and shipbuilding partners."

Crowther added, "It's apt that our 500th vessel is a Gladding-Hearn build. We've built many vessels together and our philosophies align."

Peter Duclos, Director of Business Development at Gladding Hearn, said, "Gladding Hearn's philosophy is to build commercial vessels that make our customers successful. This vessel for the Massachusetts Bay Transit Authority is a great example of the robust passenger transit vessels we are so well known for."

Incat Crowther said Champion's design is optimized for bow loading, with double-width gates and doors. The bow design integrates with the existing shore based infrastructure and the wheelhouse is designed to meet strict visibility requirements, allowing the captain to clearly see the foredeck.

The vessel's superstructure is isolated by resilient mounts, to reduce noise and vibration in the cabin, allowing the vessel to exceed the contractual requirements, the designer said.

Champion is powered by a pair of Caterpillar C32 Acert engines, driving Hamilton HM571 waterjets, for a service speed of 26 knots and a top speed of 30 knots.

Champion seats 110 passengers internally, with total capacity for 150 passengers. The fully ADA complaint vessel includes four wheelchair spaces and accessible bathroom, as well as a concession area, luggage rack, bicycle storage for 10 and a ticket counter.
Principal Dimensions
Length Overall: 88' 7" / 27.15m
Length Waterline: 80' 8" / 24.6m
Beam Overall: 27' 11" / 8.5m
Draft (hull): 4' 2" / 1.3m
Depth: 9' 3" / 2.8m
Construction: Marine grade aluminum
Capacities
Fuel Oil: 1600 gallons / 6 056 liters
Fresh Water: 200 gallons / 757 liters
Sullage: 200 gallons / 757 liters
Passengers: 150
Crew: 3
Propulsion and Performance
Service Speed: 26 knots
Max Speed: 30 knots
Main Engines: 2 x Caterpillar C32 ACERT
Power: 2 x 1,450hp / 1,081kW @ 2,100rpm
Propulsion: 2 x Hamilton HM571 waterjets
Generators: 2 x John Deere/Marathon 47kW
Regulatory
Flag: U.S.
Class / Survey: USCG Subchapter T