USS Milwaukee Launched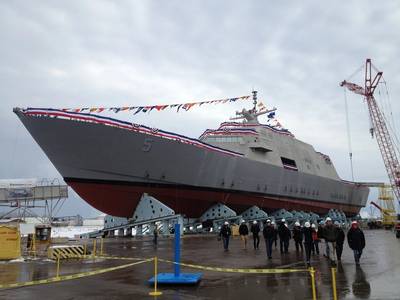 The U.S. Navy and the Lockheed Martin-led industry team launched the fifth littoral combat ship (LCS) Milwaukee, at the Marinette Marine shipyard, Wisconsin.

Prior to launching the ship into the Menominee River, ship sponsor Mrs. Sylvia M. Panetta christened the ship with the tradition of smashing a champagne bottle across the ship's bow. Assistant Secretary of the Navy for Research, Development and Acquisition Sean Stackley and Wisconsin Governor Scott Walker delivered remarks at the ceremony.

LCS 5, the future USS Milwaukee, is the third ship of the Freedom-variant Littoral Combat Ships and the fifth in the class.

In addition to Marinette Marine Corporation, a Fincantieri company, the Lockheed Martin-led industry team includes naval architect Gibbs & Cox as well as best-of-industry domestic and international companies.

The Lockheed Martin-led industry team is building the Freedom-variant ships on budget. USS Freedom (LCS 1) recently departed from the U.S. 7th Fleet following successful multi-national maritime exercises during her deployment to Southeast Asia. USS Forth Worth (LCS 3) has completed her scheduled maintenance period and is ready for her next Navy tasking. Milwaukee (LCS 5) will be christened and launched on Dec. 18. Detroit (LCS 7), Little Rock (LCS 9) and Sioux City (LCS 11) are under construction. Earlier this year, the Navy funded Wichita (LCS 13) and Billings (LCS 15), and named Indianapolis (LCS 17).