'Missing Link' LNG Bunker Barge Concept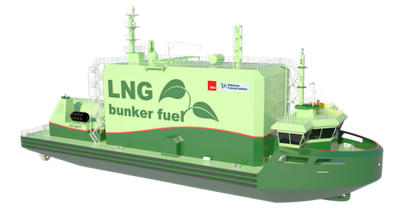 NLI Solutions (NLI) has developed a concept for a LNG Bunker Barge (often described as the 'missing link' in prospective LNG bunkering plans) based on the NLI LNG tank design.
The concept has been further developed in a design study together with the Marine division of Rolls-Royce and Wilhelmsen Technical Solutions (WTS).
LNG is among the cleanest and most cost efficient options for low emission shipping. Interest in LNG as a marine fuel is rapidly increasing, but one limiting factor is practical availability of LNG bunker facilities.Today, only one example exists, capable of carrying 187 m3 of LNG, even though ocean-going ships need to bunker several thousand cbm, and the HighTechBarge is designed to answer multiple demands for a cost-effective, high-tech high-volume barge.
For safe operations and increased manoeuvrability, the HTB will be equipped with podded propulsion similar to those used in offshore support vessels as well as state-of-the-art electronics for early threat detection.

The NLI LNG tank is an atmospheric, prismatic steel tank, type 'B', with a capacity of 4000 m3 of LNG. It will be fitted with a new insulation system with very low levels of boil off gas.
Onboard power and propulsion are fed by an environmentally-friendly gas engine. The HTB has a large pressure tank on the aft deck for boil off gas handling and gas delivery to engine.

Since re-condensation equipment is very expensive, takes a lot of space, and has very low efficiency for small installations like this, excess boil of gas can be delivered to a shoreside gas grid when the barge is not on bunkering operations. The barge can also deliver electric power to a shoreside electric grid.
Main particulars according to NLI
LOA 63m, BMAX 20m, DEADWEIGHT abt. 2000 T, Service speed 8 knots, LNG tank capacity 4000m3, CNG tank for compressed boil off gas 270 m3, aft deck contains compressors, vaporizers etc. Bunkering operations from tank top. Main engine and gen-set, size pending operation: Bergen C26:33 gas engine; Bergen C gas engines are available with powers from 1440 to 2,430kW.
Planning for the study has involved:
· NVC – responsible for design, Bergen gas engine, pod drives and bridge systems;
· TI Marine Contracting (part of WTS) – responsible for insulation systems;
· NLI – responsible for tank, LNG/gas systems, bunkering systems;
· DNV – evaluation of the barge concept with respect to limitations and possibilities within the existing codes and regulations.