MariNox Evolution Takes Emissions Monitoring Forward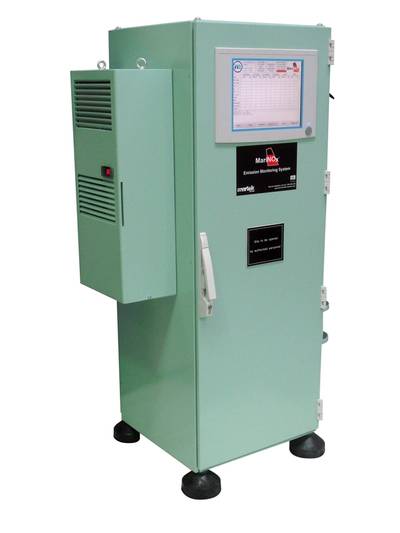 Latest generation MariNOx Evolution technology leads the market in emissions monitoring

Recently launched onto the global shipping market, MariNOx Evolution is the latest version of the groundbreaking MariNOx diesel engine emissions monitoring system from UK-based Martek Marine. While MariNOx Evolution is based largely on the existing tried-and-tested MariNOx technology, which has been successfully installed on over 100 vessels worldwide, it includes a number of new features designed to enhance efficiency.

The installation and running of the new system has been substantially refined by the incorporation of a single, daisy-chain sample line design, replacing the previous arrangement which required several separate sample lines. Reducing the number of sample lines, and cutting the amount of cabling onboard, will take a significant amount of time and money out of the onboard installation process. Furthermore the amount of power needed to heat the sample lines has also been drastically reduced by having the single sample line configuration.

According to Steve Coulson, Martek Marine's marketing director, "In avoiding the need for multiple, separate sample lines, MariNOx Evolution represents a significant step forward. This is a much simpler arrangement that will benefit customers and shipyards alike, by virtue of its less complex installation."

MariNOx Evolution also comes with more advanced DataLINK software that gives the user greater control over the emissions monitoring process. This allows for more accurate performance management of the diesel engines, thereby helping users further reduce operational costs and harmful emissions. The latest software shipped with MariNOx Evolution makes use of the IMO's new Energy Efficiency Design Index (EEDI) formula and this has further enhanced the accuracy of emissions level recording and trend analysis.

As an optional extra, MariNOx Evolution can be configured to integrate opacity sensor input, measuring the density of engine smoke, directly into its control software. "This makes MariNOx Evolution unique in the market," says Mr Coulson, "and we believe this new feature will greatly assist shipowners in monitoring the performance of marine diesel engines in order to reduce environmental impact."

The first order for MariNOx Evolution has recently been completed and other contracts have been confirmed for the new generation system, which is now Martek marine's standard emissions monitoring offer.

MariNOx was the first type approved system for monitoring NOx, SOx and CO2 emissions, and is designed to help shipowners comply as easily as possible with Marpol Annex IV rules, as well as the NOx Technical Code and MEPC 103 (409). The system provides continuous monitoring of exhaust gases and engine/ambient parameters to calculate NOx emissions and enables continuous monitoring of engine performance to deliver fuel savings of up to 4%. MariNOx is complimented by the DataLINK software suite which can be used to record and trend each installed engine, boiler or gas turbine and to display both instantaneous and historical data.

Source: Martek Marine