Moody's Downgrades Maersk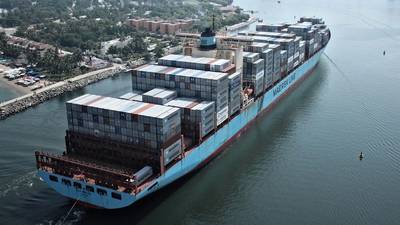 Moody's Investors Service has downgraded ratings for AP Moller-Maersk after a review of the Denmark-based shipping and oil company. Moody's expressed concerns about lower economic growth and the US-China trade war.

"The downgrade reflects our expectation that Maersk will face increased market and execution risks and, as a result, operate at a higher leverage than is commensurate with a Baa2 rating for a company in such a volatile and cyclical business as container shipping," said Maria Maslovsky, Moody's Vice President -- Senior Analyst and the lead analyst for Maersk.

"However, we acknowledge Maersk's leadership position as a liner and container terminal operator, as well as its strategy to integrate vertically into the logistics business and offer superior value to its customers," Maslovsky said.

In addition, we view positively the significant financial flexibility offered by the Total S.A. shares worth approximately USD5 billion which allows Maersk to continue with its transformation while at the same time protecting its balance sheet," added Maslovsky.

Moody's believes that Maersk will be able to remain within this leverage range given the company's leadership position in container shipping and terminals, as well as its successful integration efforts with respect to Hamburg Sud. Maersk indicated that it expects to exceed its guidance for synergies from the Hamburg Sud acquisition by at least $100 million - $150 million compared to initial guidance.

The downgrade further reflects significant downside risks facing the container shipping industry, in Moody's view.

As the broad economic growth globally is expected to be less robust in 2019 as compared with 2018 (2.9% versus 3.3% according to Moody's estimates), global trade, the key demand driver for container shipping, is also likely to come under pressure. This trend is further exacerbated by the overhang of the US/China trade tensions, although there have been recent signs that a trade war may be avoided.

While the supply of new vessels in 2019 is expected to be low owing to a multi-year trough of the orderbook (3.5% effective supply growth in 2019 according to Drewry Maritime Research), weak demand could pressure freight rates and earnings.

In addition, the container shipping industry struggled with the lag in passing through increasing bunker costs in 2018 and will need to pass through additional increased fuel costs associated with IMO 2020, a new regulation coming into effect in January 2020. To comply with IMO2020, ocean going vessels will be required to utilize low sulphur fuel which is currently more expensive than typical bunker used by ships.