Moose Boats Wins New Fireboat Order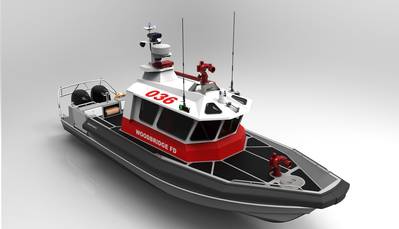 San Francisco Bay Area shipbuilder Moose Boats announced it has been awarded a contract from the Woodbridge Fire District for the construction of a M3-36 Monohull to serve as a fireboat in California's San Joaquin Delta.
The 36-foot-long vessel will feature twin 300-horsepower Mercury outboards and a dedicated fire pump to flow through two monitors at approximately 1,500 gallons per minute. This vessel will also be equipped with dive platform doors to help facilitate water rescue operations.
Fire Chief Darin Downey said Woodbridge Fire District received funding for the new vessel from the San Joaquin County Board of Supervisors through the American Rescue Plan Act (ARPA), a large portion of which is intended for public safety.
"The Woodbridge Fire District is an all risk agency covering 197 square miles and approximately 500 linear miles of the San Joaquin Delta with four fire stations. Our jurisdictional responsibilities include the San Joaquin River and many of the sloughs and marinas between Stockton and Terminous. The new fireboat will be berthed at Tower Park Marina, where our current boat is," Chief Downey said.