Royal Moroccan Navy Turns to Damen for First Tug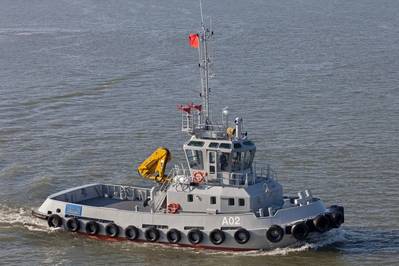 The Royal Moroccan Navy has taken delivery of a Damen Stan Tug 2208. The 22-meter long vessel, named Al Mounkid, is the first tug to join Morocco's sizeable naval fleet.
The Royal Moroccan Navy has a fleet consisting of frigates, offshore patrol vessels, training vessels and hydrographic, amphibious and auxiliary vessels. Its fleet, however, did not include a tug of any sort.
In the past, Morocco's Navy has turned to third party tug operators for towing, moving and mooring services. However, the reliance on these commercial companies has not always been advantageous to the level of its independence. With its new tug, the Royal Moroccan Navy will reduce its dependence on commercial operations.
Two diesel engines, each driving a fixed pitch propeller, provide a maximum of 40 metric tons bollard pull. The Al Mounkid will be capable of vessel assistance duties as well as firefighting and oil pollution control tasks.
Damen fitted out the vessel with air-conditioned living quarters to accommodate up to eight officers and crew – paying special attention to reducing noise levels in these areas by using high density insulation and floating floor construction techniques.
2015 has been a significant year for the Royal Moroccan Navy and the Damen Shipyard Group. The Al Mounkid is just one of the numerous contracts signed by the two parties that have increased both the capability and the autonomy of Morocco's naval fleet.
Earlier in the year Damen delivered a Stan Pontoon Water Barge to provide water to areas of Morocco suffering from a long-lasting drought. Furthermore, Damen is currently busy with a substantial order for five Interceptor 1503 vessels.