MSC Cruises Returns to Thordon to Keep Seashore Clean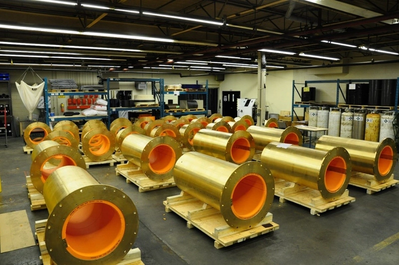 Thordon Bearings has received an order to supply a water-lubricated propeller shaft bearing solution to Fincantieri's Monfalcone shipyard for installation to MSC Seashore, the third Seaside Class cruiseship to which Thordon's COMPAC system has been specified.
As part of a scope of environmentally-sustainable technology to feature aboard the 339m long, twin screw vessel – the first of two enriched Seaside Evo Class ships scheduled to enter services in 2021 – Thordon will supply two 628mm (24.7in) diameter COMPAC propeller shaft bearings, two 638mm (25.1in) diameter intermediate bearings and a pair of 644m (25.4in) diameter A-Bracket bearings.
The order follows the in-service performance success of COMPAC installations aboard the 154,000gt sisters MSC Seaside and MSC Seaview, delivered in 2017 and 2018, respectively.
Not only are the environmental advantages of the COMPAC system undeniable, so too are the commercial advantages. Thordon has equipped 32 ocean-going cruise vessels with its COMPAC water-lubricated propeller shaft bearings, the first ones being installed in 1998.
During their years of continuous service, none of the cruiseships operating with the Thordon system have experienced downtime, cancellations or changes to cruise itineraries due to propeller shaft bearing or seal failure.
In addition to the COMPAC water-lubricated shaft line, MSC Seashore will be fitted with a Selective Catalytic Reduction (SCR) system to reduce NOx by 90%; a hybrid exhaust gas cleaning system (EGCS) to remove oxides of sulphur from the exhaust; a 'cold ironing' system through which the vessel can connect to shoreside power during port stays; LED lighting; a USCG-approved ballast water treatment system; and an advanced wastewater treatment system that meets the 'Baltic Standard', one of the most stringent maritime waste treatment regulations in force.