UK Warships in Multinational Gulf of Oman Exercises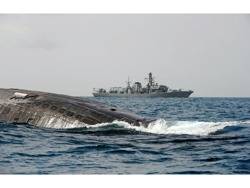 Royal Navy duo in multinational anti-sub exercise
Two British warships joined those from the USA, Saudi Arabia and Pakistan - including an old Royal Navy favourite - for the war games in the Gulf of Oman.


In the seemingly ever-present haze of the Gulf region, a Trafalgar Class submarine (T-boat) and an approximate American counterpart, USS Pittsburgh, led a seven-strong naval task group as the exercise drew to a close.
Exercise Arabian Shark 2012 is the latest in a regular series of anti-submarine exercises held in the Middle East region for the past decade.
As well as the T-boat and the US Los Angeles Class nuclear submarine, the Royal Navy committed frigate HMS Westminster to Arabian Shark, the Americans provided destroyer USS Sterett, the Saudis corvettes Hitteen and Badr, and, from Pakistan, a blast from the past for the Royal Navy participants: PNS Badr - perhaps better known as the former Type 21 frigate HMS Alacrity.
For Westminster, roughly halfway through her east of Suez deployment, Arabian Shark was a chance for her to get back to her raison d'être - fresh from counter-piracy operations and the success of a £14m drugs bust.