Multi-purpose St. Lawrence River Ferry Christened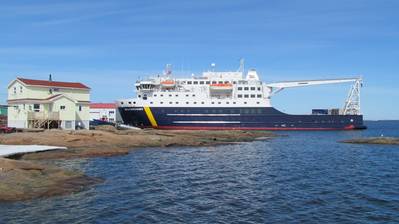 Relais Nordik conduct the christening of new multi-purpose ferry 'Bella Desgagnés' for service at Anticosti Island & the Lower North Shore.
Julie Boulet , MNA of Laviolette and former Minister of Transport of the Government of Quebec, was the godmother and ceremonially named the ship.
The Bella Desgagnés, 97.1 meters long and 19.35 meters in beam, has operational and maximum drafts of 4.2 m and 4.6 m respectively. She can comfortably accommodate 381 passengers with her aircraft-type seats. The Bella Desgagnés also offers a total of 160 berths in 63 cabins ranging from 10.5 to 16 m2, all with private facilities, and of which two 24 m2 cabins are suitable for passengers with reduced mobility. It has a 112-seat cafeteria and an 88-seat dining room. She can also carry 125 containers and is equipped with a crane with a lifting capacity of 40 mt and a boom 35 meters long.
Mr. Louis-Marie Beaulieu , president and CEO of Desgagnés declared that "Our users' safety, comfort and the quality of their stay on board were our main concerns. That is why we chose to add components that were not required by the Government of Quebec, such as retractable fins stabilizing the ship in bad weather; an entertainment system integrated into the seats for the distribution of films, television and radio stations; arcade games; a fitness center; a conference room; elevators for passengers and crew; a kennel; and much more!".

He also added that in terms of safety and maneuverability, the vessel's structure was built according to the SOLAS 2009 regulations and has also been reinforced to have superior capabilities for navigation in ice and is classed Ice 1AFS. All security, navigation, propulsion and mechanical systems are monitored by more than 3,700 operating indicators and alarms distributed throughout the ship, in addition to being equipped with a monitoring system of 50 cameras.

The vessel is powered by two 2,000 kW azimuth thrusters, each powered by two electric motors of 2,200 kW each, and equipped with two 800 kW bow thrusters. It is also equipped with a dynamic positioning system (DPS).
Relais Nordik Inc. is a wholly owned subsidiary of Groupe Desgagnés inc.; it transports passengers, general cargo and vehicles from the main terminals of Rimouski, Sept-Îles, Havre-Saint-Pierre and Natashquan, and to the eight ports of the communities it serves, i.e. Port-Menier, Kegaska, La Romaine, Harrington Harbour, Tête-à-la-Baleine, La Tabatière, Saint-Augustin and Blanc-Sablon.