Multraship Takes Delivery of Tug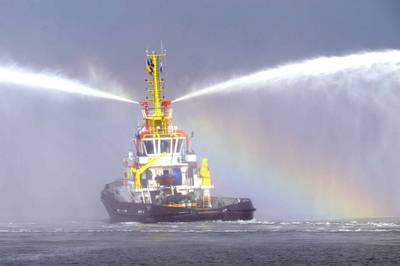 Salvage and towage company Multraship has taken delivery of its new multi-purpose Azimuth Stern Drive tug, Multratug 17, from the Vega Shipyard in Bandirma, Turkey.
The vessel is 35.7 m loa, with a moulded beam of 11.50 m, and has a multi-role capability for harbor, escort and sea towage as well as full firefighting and salvage roles. It has FiFi 1 fire-fighting, salvage, escort towage and oil recovery notations, and is powered by two Caterpillar engines, delivering 70 tonnes bollard pull. The Multratug 17 has a double drum winch aft and a single drum winch forward and a free running speed of 13.5 knots. It is classed by Bureau Veritas and is registered under the Netherlands flag. Multraship's new tug is to start work straight away, going on charter to Offshore Marine Contractors. Initially, it will be involved in rig moves in the North Sea, and next month is scheduled to tow a jack-up platform from Rotterdam to the Robin Rigg windmill park in the Irish Sea.
Multratug 17 was christened by Heleen Muller-Ribbens on June 12 at a ceremony in its home port of Terneuzen, attended by approximately 350 guests.