MV WERFTEN Strengthens Digital Innovation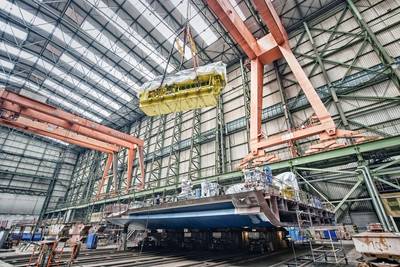 Shipbuilder MV WERFTEN has expanded its agreement with engineering and industrial software firm AVEVA to use a greater range of solutions from the AVEVA portfolio to design and construct cruise ships.
The renewed agreement gives every MV WERFTEN subsidiary full access to AVEVA's integrated engineering and design and information management solutions to drive further improvements in collaboration and efficiency across shipbuilding design and construction, due significantly to the implementation of a Digital Twin strategy.
"The combination of AVEVA and Schneider Electric's industrial software business was an important factor for us when considering the scope of our future contractual relationship with AVEVA", said Stefan Korsch, CIO at MV WERFTEN. "As we continue to drive innovation in our industry, we see AVEVA as an industry leader, helping define the digital transformation now in process within our industry. AVEVA has the industry knowledge and highly functional and stable software portfolios with the capabilities that meet our industry challenges."
Shipbuilders are increasingly turning to the Digital Twin for innovation and collaboration across complex workflows and distributed ecosystems throughout the the design and construction process.
"Our solutions are driving a digital transformation across the shipbuilding industry, with the ability to scale to meet the needs of the largest, most complex shipbuilding companies of the world," said Amish Sabharwal, Global Head of Engineering Business, AVEVA."
"For more than 25 years we have enjoyed a long and eventful relationship with the shipyards in Wismar, Warnemünde and Stralsund. It makes us even more proud that the new shipyard group, MV WERFTEN, has selected AVEVA as their long-term partner for the design and construction of these magnificent vessels," said Andrew Gordon, Regional Manager with responsibility for AVEVA's shipbuilding customers in Central and Eastern Europe.