NAO Completes Vessel Acquisition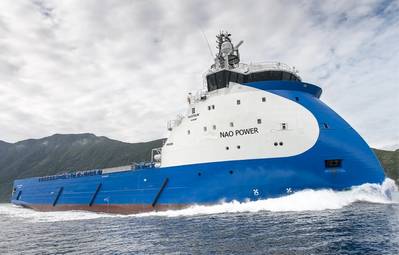 Bermuda-headquartered platform supply vessels (PSVs) operator Nordic American Offshore (NAO) announced that it has completed the previously announced acquisition of thirteen vessels from Scorpio Offshore Holdings Inc.

Emanuele A. Lauro, Chairman and Chief Executive Officer, commented "With the completion of this acquisition and the first drawdown under our Equity Line, NAO has achieved critical short-term milestones of reducing our financial leverage and increasing our liquidity. We will now turn to our immediate operational goals which include the employment of our entire North Sea fleet within the month of May."

The acquisition was done for 8,126,219 common shares at $2.7774/ share. In a separate transaction, the Company has sold 3,240,418 common shares under its Equity Line of Credit to two affiliated entities which are accredited investors for $2.7774/ share. Clarksons Platou Securities acted as advisor in this transaction.

"Our PSVs and North Sea operations will remain our primary focus. Our Q1 results will portray a number of contracts which reflect weaker market conditions. However, our spot vessels are experiencing dramatically improved utilization and rates, in some cases exceeding $20,000/ day. We do anticipate current conditions persisting, even improving, into the summer months," Emanuele added.

"Our Anchor Handlers and Fast Crew Boats are serving global customers in the West African market. We are experiencing increased enquiry for our spot vessels which portends a broader improvement in offshore fundamentals beyond any single region. We look forward to providing more details during our Q1 Earnings Call next month," Emanuele concluded.