Austal's Walpole Wins National Award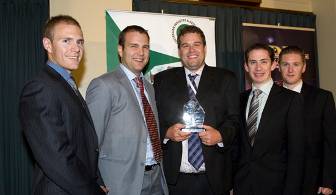 Austal employee, Byron Walpole, was presented with the Australian Industry and Defence Network (AIDN) 2011 National Young Achiever of the Year Award at a defence industry ceremony held in Canberra this week. Walpole was the recipient of the Western Australian Young Achiever Award in late December 2010, and, as a result, was entered into the National competition, which recognizes the achievements and potential of individuals within the defence industry.
Walpole, from Hilton, Western Australia has been instrumental in extending Austal's naval architecture credentials as a result of his substantial input into the designs of the U.S. Navy Joint High Speed Vessel (JHSV) and the U.S. Navy Littoral Combat Ship (LCS).
Walpole was lead designer on the Austal LCS project, a trimaran warship with multi-mission capability. The first Austal LCS was delivered to the U.S. Navy in December 2009, with a second due for delivery in mid 2012. The U.S. Navy recently awarded Austal a contract to build a third LCS with options for a further nine over the following five years. Austal is also contracted to build five JHSVs with the US Department of Defence holding options for a further five vessels.
Since joining Austal in 2002 as a Naval Architect, Walpole has participated in the design of several state-of-the-art naval and patrol vessels.
Austal Chief
Operating Officer, Andrew Bellamy, congratulated Mr Walpole, noting that the award was well deserved. "During his eight years with Austal, Mr Walpole has been instrumental in the design of the Armidale Class Patrol Boat, the LCS and the JHSV, which, together, have earned the Company more than $2b in revenue."
Walpole has a Bachelor of Engineering (Naval Architecture) from the Australian Maritime College in Tasmania and is a Graduate Member of the Royal Institute of Naval Architects.