B.Delta Bulk Carrier Delivered to China Navigation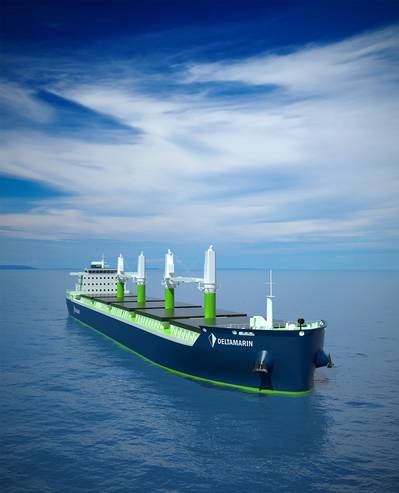 Deltamarin and Lloyd's Register announced that on October 18 China Navigation Company (CNCo) took delivery of MV Wuchang, first of the 39,000 dwt B.Delta37 bulk carriers of Deltamarin design built under Lloyd's Register's approval and survey at Chengxi Shipyard in China.
Deltamarin's B.Delta37 design has attracted significant attention in the industry due to the best in class (handysize segment) performance in terms of a range of parameters such as low fuel oil consumption, low emissions, EEDI, deadweight intake and lightweight particulars. On top of this the vessel has excellent maneuverability and performance in heavy seas as experienced during the sea trials. This is achieved through a very optimized and energy efficient design with particular focus on optimal hydrodynamic performance and lowest possible lightweight without compromising either the cargo intake or the hull structural integrity. Detailed structural finite element analysis and fatigue design assessments in accordance with IACS' Common Structural Rules have been used to verify the hull structural integrity.
The high performing design characteristics have been validated during the inclining experiment and sea-trial conducted prior to delivery. The estimated lightweight particulars (weight and center of gravity) are confirmed to be within the acceptable limits of the actual lightweight details derived from the inclining experiment, and accordingly the corresponding contracted cargo capacity are also confirmed.
Although the Wuchang was contracted prior to the EEDI requirement coming into force January 1, 2013, CNCo and Deltamarin requested EEDI verification on a voluntary basis from Lloyd's Register. Accordingly the EEDI value has been calculated and verified based on model testing and during sea-trials and the derived EEDI value is confirmed to be over well 20% below the applicable baseline for bulk carriers Lloyd's Register and Deltamarin enjoy mutual beneficial cooperation on many joint newbuilding projects for various ship types and designs, and this newbuilding project at Chengxi Shipyard for CNCo has further strengthened the collaboration between Deltamarin and Lloyd's Register as well as with CNCo and Chengxi Shipyard.
Wuchang has newbuilding number CX0341 from Chengxi Shipyard and is the first in the series of 16 ships of this optimized B.Delta37 design from Deltamarin ordered by CNCo to Lloyd's Register's class at Chengxi Shipyard and followed by additional four at Ouhua Shipyard. So far totally 53 B.Delta37s have been contracted in five different Chinese Shipyards.
deltamarin.com
lr.org