Ray LaHood Accepts 2013 WTS Navigator Award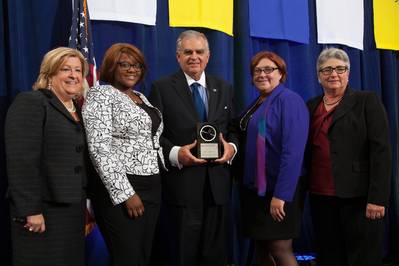 Former U.S. Secretary of Transportation Ray LaHood accepted the 2013 WTS Navigator Award—the first ever awarded by WTS International--at the Mayflower Renaissance Hotel in Washington, DC, Tuesday night.

The Navigator Award was created by WTS, the association for building the future of transportation through the global advancement of women, to recognize the achievements of an individual or organization for extraordinary efforts to attract, retain, and advance women in the transportation industry.

"WTS was honored to have Mr. LaHood accept this award, as he has stood behind our mission and created new opportunities for a diverse and inclusive workforce," said WTS International's President and CEO, Marcia Ferranto.

Mr. LaHood has supported WTS International's mission, and his efforts have set the gender diversity issue in the transportation industry on an accelerated path. His efforts and passion have raised awareness, helping WTS further along on the journey to achieving its mission.

One of these efforts is WTS International's Transportation YOU program. The program is joint effort of WTS and the Department of Transportation that led to LaHood's signing of a memorandum of understanding in 2010 to create programs that encourage girls aged 13 - 17 to pursue an academic path that leads to a career in transportation. The effort has already reached 30 different WTS chapters across the U.S. that offer mentorship, internship opportunities, tours, and hands-on engineering challenges.

Sabrina Gantt, Transportation YOU Student and recent participant in the Transportation YOU DC Summit, presented Ray LaHood with the Navigator Award at a dinner reception in his honor. In Mr. LaHood's acceptance speech, he spoke about the importance of inspiring young women to pursue transportation careers as well as helping retain and advance women currently working in the industry with mentoring. The former secretary of transportation also said that it's a disgrace that over the years of meetings he's had with CEOs in freight rail, the airlines, and gas industry, he's found that not one CEO is a woman.

His point: while WTS has made great strides in advancing women in transportation since it was founded 35 years ago, the importance of attracting, retaining, and advancing a diverse workforce is an ongoing process. Women make up less than 13% of the total workforce in transportation-related occupations such as urban and regional planning, civil engineering, architecture, surveying, and construction management. In addition, women comprise only 17.4% of transportation managers (BLS, 2010).

"Women have a vital role to play in revitalizing our country's transportation infrastructure," Mr. LaHood said. "I am honored to receive this award from WTS, and even more importantly, I am grateful for their work with the Department of Transportation to encourage more young women to pursue studies that can lead to careers in transportation."