Navy Cancels DDG-1000 Destroyer Program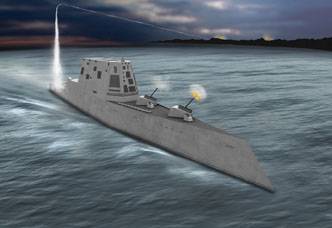 The Secretary of the Navy informed members of the Senate and House of its plans to cancel the $29b DDG-1000 program after completion of the first two ships, one of which is scheduled to be completed at Bath Iron Works. Assembly work on the guided-missile destroyers was to have been divided between the 124-year-old shipyard, owned by General Dynamics Corp., and a yard in .
Cancellation of the 14,000-ton, Zumwalt-class destroyer after just two ships were funded, was made public by Maine's two Republican senators, Olympia J. Snowe and Susan M. Collins, and US Representative Thomas H. Allen, a Democrat whose district includes the Bath shipyard. The lawmakers said they were informed by top Navy officials that with costs rising 50 percent, to $3b per ship, the program has become too expensive and would make it impossible for the Navy to meet its overall goal of a 313-ship fleet. The service currently has about 280 ships.
The lawmakers said they were also told that the Navy had concluded the destroyer's design was not well suited to combating the evolving threat of long-range missiles.
Cancellation of the Zumwalt-class destroyer potentially could have a greater impact on Raytheon than on General Dynamics, some analysts said.
Last year the Navy was forced to restructure the Littoral Combat Ship, a next-generation fleet of small, fast attack vessels, opting to acquire just two ships rather than six after engineering problems.
Senator Collins, who is a Member of the Senate Armed Services Committee, worked to include in the Senate version of the Defense Authorization bill the $2.6 billion the Navy had requested to build a third DDG-1000, which also was scheduled to be built at Bath Iron Works. The House version of the authorization does not include any funding for the DDG-1000 program or for Bath Iron Works.
Senator Collins said, " The Navy's decision to curtail the DDG-1000 program is a blow to Bath Iron Works. It was triggered by the decision of the House Armed Services Committee to eliminate funding for the DDG-1000 program, which prompted a review within the Department of Defense on the future of the new destroyer program. "
Reports are surfacing that the Navy would order eight older-model DDG-51 destroyers instead.
Sen. Collins, who first disclosed the news this week, and 11 other senators sent a letter asking Defense Secretary Robert Gates to rescind the decision until a thorough analysis is conducted, and Congress has had time to study the plan. Collins said Navy officials told her they would order nine more DDG-51 destroyers.
Source: Reuters