New Emissions-free Workboat Features Electric Propulsion, Hydrofoils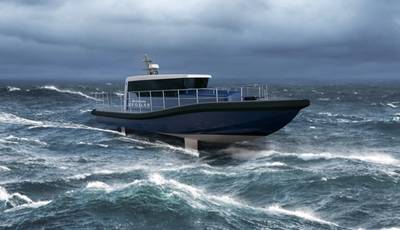 An innovative, zero-emissions workboat featuring hydrofoils and a fully electric propulsion system is scheduled to hit the water before the end of the year.
The 11-meter vessel, announced by Artemis Technologies COO, Prof. Mark Gillan, during a presentation to the Workboat Association's Technical Workgroup on Tuesday, will be built by Tuco Marine Group and is fitted with the Artemis eFoiler electric propulsion system. It is designed as a commercial multipurpose workboat platform to help operators reduce fuel usage and carbon emissions.
"The Artemis eFoiler is a truly transformative innovation that will help commercial operators across the world dramatically reduce their carbon emissions. The electric propulsion system provides significant range at high-speed, whilst also reducing operational costs through substantial fuel savings," Gillan said.
Hydrofoils, flight control system and electric drivetrain will power the vessel to cruising speeds of 25 knots and a top speed of over 30 knots. Its range will be 60 nautical miles at cruising speed.
"The Artemis eFoiler enables vessels to fly over the water, providing an exceptionally comfortable ride, without causing any wake or wash," Gillan said. "This means minimal disruption to the water surface and surrounding area, thereby protecting shorelines and wildlife, while also allowing vessels to travel at high-speed for longer."
The scalable technology is intended to suit a range of vessels and applications, including those used in the offshore wind sector, and for passenger transportation, according to Artemis Technologies. The company's Artemis eFoiler electric propulsion system is a key component of a new class of zero-emission, high-speed ferries it is developing in Northern Ireland as the lead partner in the Belfast Maritime Consortium's £60 million UKRI Strength in Places Fund program.
Artemis Technologies said the concept has recently moved into the next phase in the development, and that a technology demonstrator will be launched in 2021.
"Up to this point, we have carried out extensive design and engineering work on the foils, drivetrain and control system. Moving into 2021, we are very excited to commence the manufacturing and testing phase and look forward to beginning sea trials later this year," Gillan said.