New Ferry the Red Kestrel Completed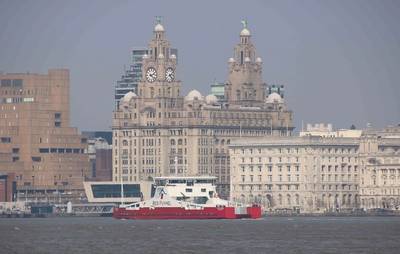 Merseyside shipbuilder Cammell Laird has completed the building the $13 million ferry the Red Kestrel, for Isle of Wight ferry operator Red Funnel.
The Red Kestrel, a new freight-only RoRo vessel, sailed away from Cammell Laird's famous River Mersey shipyard following a nine-month build program. In total the project used 45 British supply chain businesses and generated 3000 man hours of work for Cammell Laird's apprentices. Cammell Laird further employed 200 direct workers, 200 sub-contractors and 10 apprentices on the contract.
The Red Kestrel will operate between Southampton and Isle of Wight. The vessel will officially join the fleet on arrival in Southampton, and enter service in May, following trials and its official naming ceremony. The Red Kestrel is Red Funnel's first dedicated RoRo freight ship since the company's inception almost 200 years ago. As a freight vessel she is limited to 12 passengers and constructed specifically to provide additional year-round freight capacity for Red Funnel's Southampton-East Cowes route, which currently handles 53% of all freight movements across the Solent. Red Kestrel is due to enter service in May 2019, with the current ferry timetable to be updated to accommodate the vessel.
At 74m in length, she will provide 265 lane meters of roll-on/roll-off freight capacity. To minimize the environmental footprint, the hull shape has been designed specifically to reduce wash and a propulsion package has been selected to make her highly fuel efficient whilst meeting the latest Tier III emission regulations. The use of proven azimuth thrusters supplied by Rolls Royce, will also make the ship very maneuverable. The crossing time of 55-60 minutes will be identical to Red Funnel's existing Raptor class ro-pax ships and she will use the same berths in Southampton and East Cowes.