New Maritime Caterer Apprenticeship Standard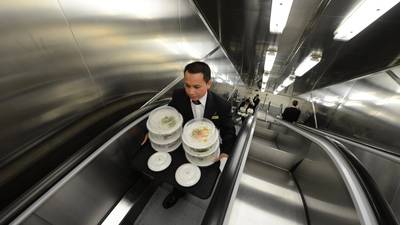 Prospective maritime caterers can now be assured of quality training and additional funding, thanks to a new apprenticeship standard developed by the UK's Maritime Trailblazer group, said UK Chamber of Shipping.
The new Maritime Caterer apprenticeship has been designed to train people to organise a kitchen and cook meals across a number of shifts that span the cultural needs of multinational crews.
The new standard, which has been approved by the UK's Institute for Apprenticeships, covers cookery skills, stocktaking and kitchen management, and outlines the skills, understanding and behaviour expected of caterers onboard ships.
As part of the apprenticeship, ratings will work towards the Level 2 Award in Maritime Studies: STCW1 Safety, which includes regulatory fire-fighting; first aid, survival in the water, security, safety and social responsibility.
Those who complete the apprenticeship, which can take up to 24 months, will receive a certificate, which has been certified by the Education Skills Funding Agency.
Companies that are in receipt of funding can receive up to £6,000 to fund apprentices' training.
The standard also includes an assessment plan, which will be conducted by independent examiners. Maritime caterers will firstly undertake a four-hour observation to test their cooking skills. This will include arranging a buffet, cooking a three-course meal and preparing menus, which will assess that apprentices' skills are practical and safe. Assessment also includes an oral test, which takes the form of a professional discussion with the examiner.
"After a good deal of hard work and negotiation, this standard has been approved and will ensure not just good cooking but proper stocktaking and overall management of the kitchen, whatever the size of the crew or the vessel," explains Mark Burgess, Training Development Manager for the
Merchant Navy Training
Board (MNTB) and secretary of the Maritime Trailblazer group.
As well as the MNTB, the Trailblazer group is made up of representatives from employers, unions, nautical education centres, stakeholders and the
Department for Transport
(DfT). The Maritime Skills Alliance holds observer status.
"By offering employer-led apprenticeships in the maritime sector, we are attracting new talent to pursue a career in the Merchant Navy," says Kathryn Neilson, the MNTB's Director.
"By opening doors to training through routes other than the traditional navigational, engineering and electrical cadetships, we are raising the profile of ratings training and the excellent opportunities for personal development and career progression available to ratings," she continues.