New Scrubber Service Station at Portland Port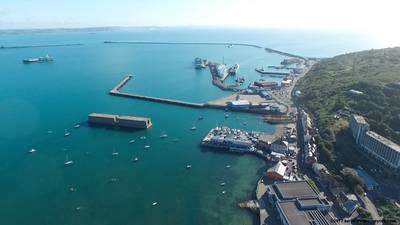 Intermarine UK struck an agreement with a Chinese manufacturer to make the Port of Portland one of the UK's centers for scrubber installation.
Intermarine President Slawomir Kalicki signed the agreement at Norshipping in Oslo with counterpart DB Wang deputy general manager of the Shandong Pure Ocean Technology based in Renhe Town in the Shandong province. The deal will see Intermarine act as an agent to Shandong and offer to install its scrubber systems to a wide variety of vessels to help them meet tough new environmental regulations. This includes bulk, container and cruise ships as well as RoPax and RoRo ferries, tankers, car carriers and fishing vessels.
"We see a big demand for scrubbers now the deadline is fast approaching," said Kalicki. "Working with Shandong we can offer ship owners and operators a first-class scrubber system and we can help ensure the system is approved by the ship's Flag Administration and the approval is properly evidenced in the ship's IAPP Certificate (International Air Pollution Prevention Certificate). Shandong's scrubbers are state of art products and critically they have a very fast installation time saving up to 25 days on the average scrubber installation. Another big advantage is Portland Port's ability to offer sheltered harbor for a wide variety of large ships, with multiple deep-water berths and low tidal ranges."