New Vessel for Windermere Lake Cruises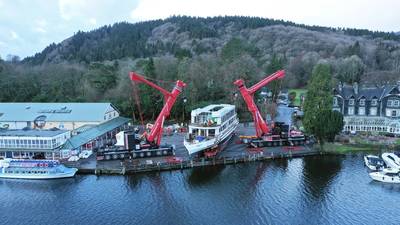 MV Swift was launched December 11, 2019 into the waters of Windermere in the Lake District National Park.
Damen Shipyards Group is building the vessel on location via the Damen Technical Cooperation (DTC) for Windermere Lake Cruises.
At 34m, the vessel is slightly shorter than the company's existing flagships, MV Swan and MV Teal. This will enable the vessel to dock at smaller jetties in the area, thereby providing economic stimulus to a wider pool of local businesses.
Windermere Lake Cruises operates a fleet of 16 vessels currently. Throughout the year, these vessels take more than 1.6 million passengers on tours, day trips and evening functions on England's largest natural lake.