NAPA Software Solutions Applied For The P&O Ferries Newbuilding The Spirit Of Britain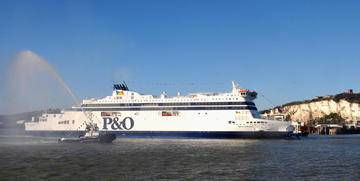 STX Finland Rauma shipyard has successfully appliead NAPA for finding the optimum subdivision design for the P&O Ferries 49.000 GT newbuildings. These ships are the largest ferries ever to operate in the English Channel. The stability of the vessels complies with the Stockholm Agreement and naturally also with the SOLAS 2009 requirements.

After applying the optimising features implemented into NAPA, the designer quickly searched for the maximum safety level that was obtainable according to the SOLAS 2009 probabilistic damage stability regulations regarding the vessel's operational and technical limitations. The work resulted in the optimum general arrangement with the optimum number and location of watertight bulkheads and the optimum bulkhead deck height.

There were more benefits in addition to safety, because the area for large storage below the car deck was optimised and the effect of the different variations in building cost and steel weight were studied.

Targets for the compartment arrangement solution were:

* The shipowner's requirement to find the safest possible solution for the subdivision
* The search for the best design in respect of the number and position of transverse WT-subdivisions
* The search for the optimum height for the bulkhead deck

After the initial design was agreed and the NAPA modelling accomplished, the actual calculations were made in a relatively short time. All of the necessary results were available in only three weeks' time.

The selected design was further assessed against scenarios involving extensive water on deck. The shipyard's designers had to find a way to comply with the owner's strict requirements, which exceed the current regulations. A considerable number of flooding scenarios needed to be generated and simulated in time domain in varying sea states typical for the operational area. The study was done with NAPA by using the Flooding Simulation feature. The simulation results ensured that the design reached first-class standards also as concerns stability. Further, the case animations helped the designer to understand the flooding mechanisms in damaged conditions and to take these into account.

The SOLAS 2009 damage stability regulation opened the way for new innovative concepts in designing passenger ship subdivisions. "We have found the optimisation tools implemented in NAPA to be very useful in developing new subdivision concepts and in optimising the watertight boundaries of our ships in accordance with the preferences of our customers," says Jukka Vasama, Chief of Department at STX Europe Rauma shipyard.

The Napa Group is one of the world's leading software houses in the marine industry, supplying software solutions for ship design and operation. NAPA and Onboard-NAPA software are used by the world's leading shipyards, owners, designers, classification societies and authorities. Napa Ltd has nearly 400 user organisations. Onboard-Napa Ltd has carried out over 1000 ship installations.
Source: NAPA