Royston: Dangers of Non-Genuine Components Very Real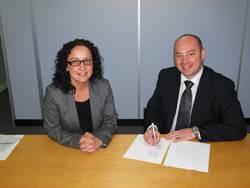 Diesel engineering specialist Royston Ltd has been appointed as the UK Service Centre for Napier Turbochargers. The appointment means that Napier customers using Newcastle-based Royston to support their turbochargers will benefit from the same quality of parts and service as those provided by the Napier Turbochargers factory. This will introduce a new level of convenience and flexibility to Napier customers while also reassuring them that only genuine Napier parts and engineering standards are being used in repairs and servicing.

"This can be particularly important for turbochargers as serious problems can arise from using non-genuine turbocharger parts," explained Lawrence Brown, managing director of Royston Ltd. "Turbochargers use components that rotate at extremely high speeds and this naturally demands precision engineering of the highest quality. Although this may be available with some non-genuine parts the metallurgy of the component is equally important as it will have to withstand high temperatures that can affect its molecular structure. As the component becomes hotter the high speed rotation will cause it to change shape and size and this will affect its performance. This is particularly important for the compressor wheel as its performance is affected by numerous parameters and is the subject of many hours of design analysis and testing by Napier engineers before it can be certified. This is not possible for producers of non-genuine parts and even if the component does not fail physically it can still prove expensive for the user. Higher fuel consumption and increased service costs due to a shorter component life will result and the cheaper component will not have saved the user any money at all."

Royston specializes in the maintenance and repair of all makes of diesel engine anywhere in the world. It has consequently enjoyed a close working relationship with Napier Turbochargers for over 15 years in which time Royston has demonstrated its expertise in supporting the company's products regardless of their age. The Service Centre Agreement now puts this relationship on an official footing and gives customers the option of using an alternative approved service provider whose work will maintain their certifications.

"The problem for the ship owner has been that in the UK the Napier factory has been the only officially guaranteed provider of Napier servicing standards," said Gary Rodgers, commercial director of Napier. "This can make the customer vulnerable to using service companies that may be cheaper because they fit components that lack any quality guarantee. This has now changed as Royston can provide support that matches that which is available from our Lincoln factory. In fact, in some ways it is better as Royston can support any turbocharger we have ever made and holds a substantial stock of genuine parts that the customer can rely upon."

With over 60 years of experience, Napier has produced over 50,000 turbochargers for applications in the marine, power generation and rail industries. Napier Turbochargers is consequently acknowledged as a world leader in the design, manufacture and support of industrial turbochargers that may run on fuels ranging from marine diesel oil and natural gas to varying qualities of HFO and landfill gas. The current Napier 7 Series product spans engine outputs from 2MW to 6.5MW per single turbocharger and is based around the original Napier cartridge design. The Napier 7 Series of turbochargers represents the company's core range of quality products for the latest generation of medium speed diesel, heavy fuel and gas engines.

Royston is now one of 27 independent authorised Napier Turbocharger service centres and is the only one in the UK. It will consequently concentrate on the UK market although Royston Ltd also has facilities in Perth, Australia, that give its service teams a global reach. As a result Royston engineers can support any type or age of diesel engine anywhere in the world. The fleet maintenance service is provided for all types of seagoing vessel and for diesel engines on offshore platforms or ashore. The company's technicians come from a variety of OEM backgrounds and maintain their skills at the highest levels to ensure that even discontinued products remain fully operational.

Royston Limited was founded over 30 years ago and in addition to its engine maintenance and repair services, the company also designs and manufactures enginei, a fuel and engine monitoring system. This enables both onboard crew and ship operators ashore to monitor and manage the fuel consumption of every vessel in a fleet and to ensure that their engines are being used in the most efficient and economical way.