NorShipping 2019: A "Koselig" Event
"Koselig" is a Norwegian adjective used to describe situations that give a feeling of comfort, warmth, and relaxation. The NorShipping exhibition and conference, one of the largest in northern Europe, could definitely be described as koselig. Occurring in Oslo, Norway between June 4-7, 2019, the conference featured close to 1,000 exhibitors from around the world.
With the prominently featured Blue Economy Hall, terms such as marine sustainability and environmental ocean awareness held the center stage at a number of the events. In true Norwegian fashion, most of the major press announcements were delivered in semi-intimate gathers with copious amounts coffee by maritime CEOs and VPs who enjoyed being called by their first names. The Nor-Shipping conference felt less like a gathering of competitors keen on sizing one another up and more of a gathering of old colleagues and friends.
As one Norwegian maritime executive quipped over an over-priced beer, most of the executives who run the major shipping and maritime technology companies in Norway "went to the same school and worked with one another at some point in various Scandinavian companies…they are all basically friends". This coziness was present in the way several Scandinavian based global competitors have clustered together to develop business opportunities in marine automation and green shipping. Moreover, many of the companies rallied around common themes throughout the conference.
These themes included advancing maritime automation, addressing marine pollution, and connecting marine sensors for the better management of commercial shipping.
Advancing Maritime Automation
Two noteworthy events featuring marine automation included the unveiling of the Autonomous Control Station (ACS) for the Yara Birkeland, one of the largest fully autonomous container feeder vessels projects in Europe, and the announcement by the OneSea group to include three additional marine technology stakeholders towards the advancement of self-guided shipping. Both events marked continued progression toward the commercialization of autonomous shipping
The first big announcement occurred during a dinner event at Wilhelmsen Ship Management on the first day of the conference. Massterly, a joint venture between Wilhelmsen and Konsgberg, captured the imagination of those in attendance by unveiling the ACS at Wilhelmsen's main office in Lyskaer.
Tom Eystø, CEO of Masstery, said the following during the unveiling. "We are developing this control station for the Yara Birkeland…[and] will sail the vessel for the first two years with a skeleton crew onboard. We will be monitoring it from this control center…and we will have access to everything that we have onboard [the Yara Birkeland] in the control center".
With striking similarities to the actual bridge of a larger vessel, the ACS included screens displaying the ship's ECDIS, radar, alarm monitoring system, and plant status. The control station also featured visual displays which projected images that one would see from the bridge of the vessel. During the unveiling of the ACS, Massterly ran a simulator showing the proposed route of the Yara Birkeland including navigational obstacles like bridges and other vessels. Once the Yara Birkeland and ACS are placed into operation, the command center will have two controlling stations, one primary and one back-up, manned by an operator as well as a shift supervisor which oversees the daily operations of the ship including cargo management and voyage planning.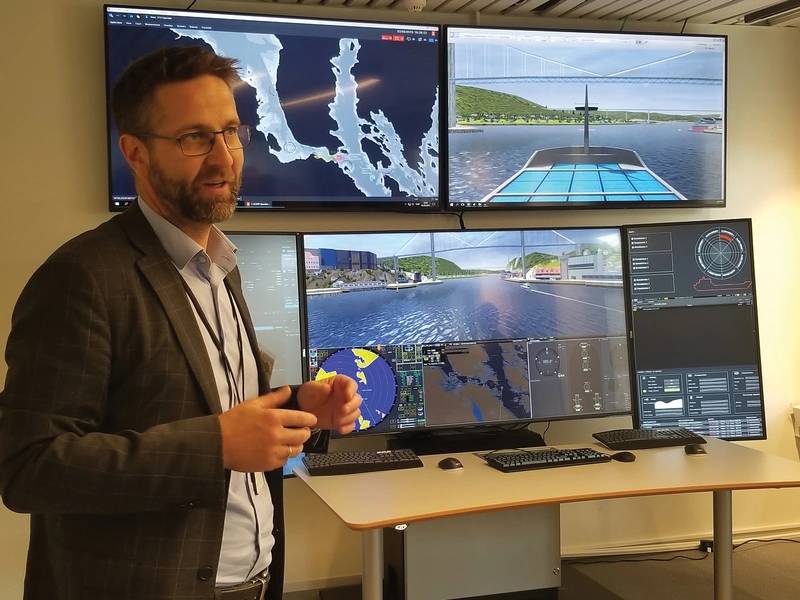 Tom Eystø, CEO of Massterly, unveiling the Autonomous Control Station at Wilhelmsen's office in Lysaker, Norway. Photo Credit: Joseph DiRenzo
Referencing human factors studies on the remote management of autonomous ships, Tom Eystø indicated that one operator could manage up to "six or seven ships depending on where they are in the voyage". Mr. Eystø went on to explain that when two ships were mooring simultaneous, the shift supervisor may divide the mooring operations between two different operators at two different control stations.
Speaking on the overall design philosophy for the Yara Birkeland, Mr. Eystø stated that "the ship is not depending on interfacing with the shore control". Rather, remote operators would only interact with the vessel during "exception handling" scenarios, which was described as situations requiring a higher level of critical thinking and maneuvering. As a marked departure from other autonomous vessel projects, this function could reduce the man-power required to operate the vessel and may result in operational expenditure savings over the life of the vessel.
A similarly impactful announcement was delivered the next day by the One Sea group which is an autonomous maritime technology incubator organized by the Finland based Digital, Internet, Materials & Engineering Co-Creation (DIMECC) company. The One Sea group announced that they were including satellite communications company INMARSAT, Monohakobi Technology Institute (MTI) which is a R&D subsidiary of the Nippon Yusen Kabushiki Kaisha Group, and the Royal Institute of Naval Architects into their organization of marine companies. These three companies joined the ranks of ABB, Business Finland, Cargotec, Ericsson, Finnpilot Pilotage, Kongsberg, Tieto, and Wärtsilä in working towards the goal of "developing the first autonomous maritime transport system by 2025".
Known for operating the Jaakonmeri test area, one of the first international test areas for autonomous maritime vessel technology, the announcement marks continued synergy in autonomous shipping. The group will focus on advancing rules and regulations for autonomous shipping, ethics, and standards and integration for autonomous marine components.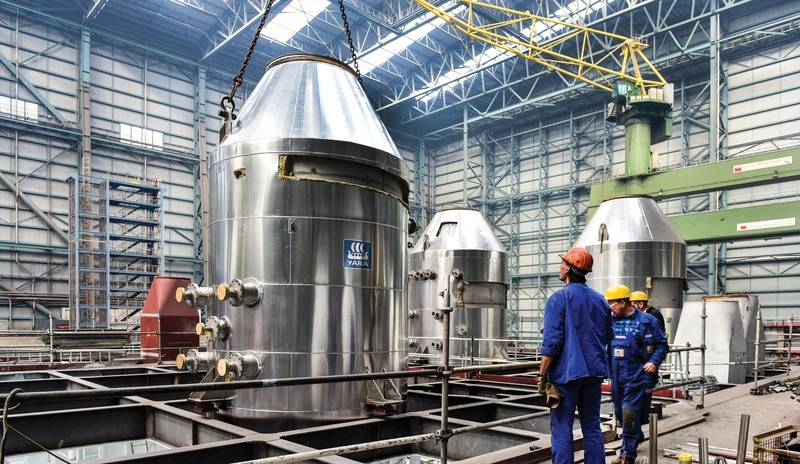 Yara Marine Gas Scrubber. Photo Credit: Yara MarineMarine Pollution
The Nor-Shipping conference also served as a public forum for governments and international governing bodies like the United Nations (UN) and class societies like the American Bureau of Shipping (ABS) to announce plans and strategies related to sustainable ocean use, marine emissions and climate change.
The prime minister of Norway, Erna Solberg, joined by Lise Kingo, CEO & Executive Director of the UN Global Compact, used the conference to promote Norway's ocean strategy and a UN strategy document entitled Global Goals, Ocean and Opportunities. Published by the UN Global Compact, a UN sponsored group to assist companies in aligning their operations with UN principles, the strategy laid out 17 "Global Goals" divided into the categories of a healthy, productive, and well-governed oceans.
"All the 17 goals are deeply interconnected and they are all expressing the systemic connections that we all live by and live from in this world" stated Mrs. Kingo during the announcement.
Standing next to Mrs. Kingo on-stage, Mrs. Solberg explained how the strategy document was aligned with Norway's national strategy for its maritime commons. "The key object for Norway's ocean strategy is to promote sustainable economic growth through responsible management. We do that because we live on the ocean. We have most of our GDP out of the ocean. We have our biggest knowledge-base based on the ocean...And I think Norwegians are closely connected to it"
A number of concepts outlined in the UN strategy document were central themes during the Nor-shipping conference by class societies. For example, ABS specifically discussed the operational and technical implementation of several of the UN's maritime goals during the announcement of its 2030 outlook and 2050 vision document.
During the ABS press announcement, industry experts discussed methods and technologies ship owners could consider to meet IMO 2030 and 2050 Green House Gas (GHG) goals in a document titled Setting the Course to Low Carbon Shipping. According to ABS' vision document, "the main strategies to help shipping meet the IMO's emissions goals for 2030 include: establishing speed limits; coordinating 'just-in-time' arrivals of ships at ports, design refinements such as hull optimization and propeller optimization, and enhancements to design efficiency, such as those mandated by the IMO's Energy Efficiency Design Index (EEDI)".
Central to the discussion were minimum emission per tone-mile which must be met to achieve 2030 and 2050 IMO goals. According to an April 2018 announcement by the IMO, targeted emissions reductions would be a minimum of 40 percent per cargo tone-mile by 2030 and a 50 percent reduction in overall GHG emissions by 2050, compared to 2008 levels.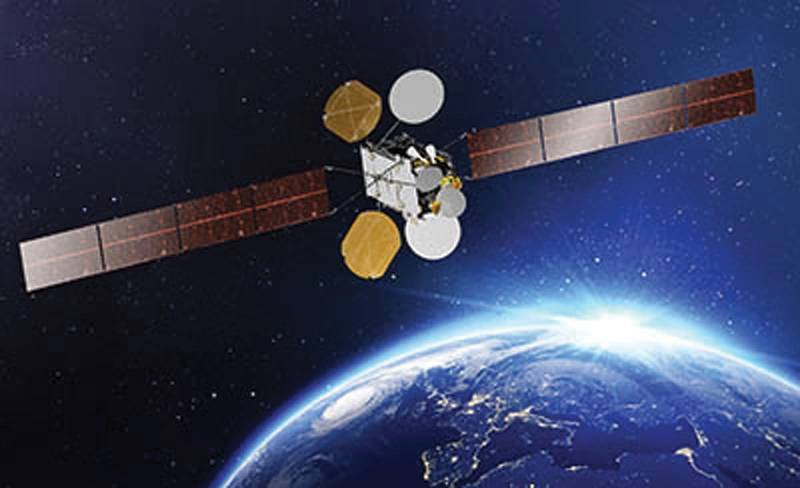 Inmarsat Global Xpress satellite rendering. Photo Credit: Inmarsat
An expert panel chaired by members from Maritime Strategies International (MSI), Herbert Engineering and ABS discussed the different operational and technology solutions which should be considered to achieve 2030 and 2050 emission targets.
According to Dr. Kiris Tikka, Executive Vice President and Senior Maritime Advisor at ABS, "the big factor in getting to 2030 is probably going to be speed control…We also expect there will be addition [interest] in LNG as a fuel and that will have a contribution towards 2030".
Noting that altering the operational profile and speed of existing technology would not achieve 2050 targets, ABS contracted Herbert Engineering Corporation to develop designs for two concept container ships. One design was for a 2,000 TEU feeder ship and the other was for a 14,000 TEU container ship. Each vessel design was modified from a baseline concept that could run on HFO to alternate designs which would accept hydrogen fuel cells and liquid biofuels.
Tikka described these top level designs as "aspirational realistic designs". "They are aspirational in the sense that they are for the future, but they are realistic in the sense that they were developed using the same principles that you would develop any basic design".
Other conversations during the Nor-Shipping conference focused on the immediate concerns related to IMO's 2020 regulations on SOx emissions. A brief interview with Mr. Peter Strandberg, CEO, Yara Marine Technologies, illuminated some of the benefits and challenges related to maritime gas scrubbers
When asked about the balance between reducing local SOx emissions and the additional fuel used to power the scrubbers, Mr. Strandberg offered the following, "you will consume a little bit more fuel because of the energy [required to power the scrubber], but to cooperate with HFO then the scrubber is the best alternative… Either you can refine it twice [at the refinery] and have double CO2 [emission] or you can put [HFO] directly on the vessel and burn it there. If you have the HFO and scrubber you will reduce your particle emission up to 80 percent".
Further discussions with Mr. Strandberg revealed a public debate on the efficacy of closed loop versus open loop gas scrubbers. SOx scrubbers pass exhaust gas from marine engines through a "scrubbing cloud" of water droplets which capture emission particles from the exhaust gas. In the open loop configuration, the water used in the scrubbing process is discharged overboard while in the closed loop configuration water is re-circulated and treated with either caustic soda or Magnesium Oxide. Referring to a recent ban by Singapore on open loop scrubber, Mr. Strandberg stated "We, the scrubber suppliers, have to do a better job to inform the public and the government about the scientific facts". He went on to reference past and on-going work with DNV-GL to assess the environmental impact of open, closed, and hybrid gas scrubbers.
With 2020 IMO regulations taking effect at the beginning of next year and 2030 and 2050 GHG targets following closely behind, there was a palpable tension from maritime stakeholders attending the Nor-Shipping conference when debating the best ways to achieve these targets. The prevailing frustration stemmed from uncertainly in how these upcoming IMO regulations would be applied and changed over time.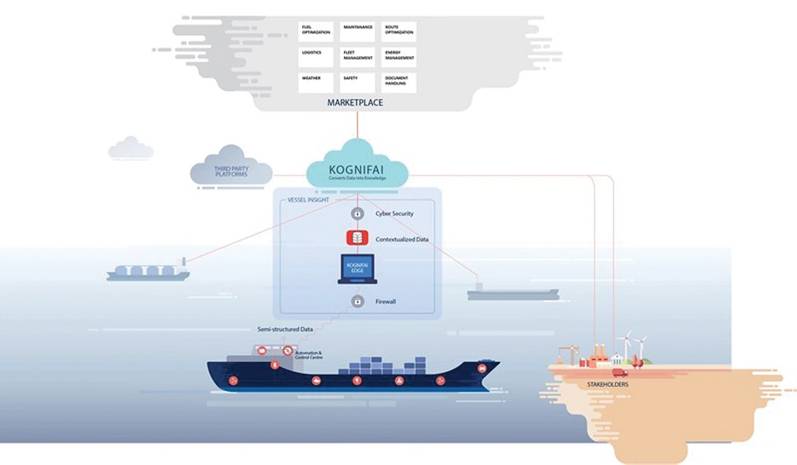 Rendering of the connected sensors and systems within Kongsberg's Vessel Insight system. Photo Credit: Kongsberg Maritime
Interconnected Sensors and Better Ship Management
In additional to operational changes, and alternate fuel systems, there were a plethora of companies at Nor-Shipping offering products designed to optimize ship management and produce fuel saving from interconnected marine systems and advanced analytics. More specifically, several companies claimed that optimized decision making could be made by artificial intelligence and underlying algorithms.
To support the growing amount of data being sent from ship-board sensors to shore-side servers for analysis, INMARSAT announced plans to partner with Airbus Defense and Space to launch a series of new satellites in the coming years. According to INMARSAT's press announcement, this additional investment was made to support an expansion of the Fleet Express product which is a combination of the legacy Fleet Broadband L-band service and the newer high speed Global Xpress Ka-band service.
Representing a source of this expanded maritime system data, Kongsberg maritime held a press announcement to unveil the Kongsberg Vessel Insight system. Described as a "vessel-to-cloud data infrastructure", Kongsberg Vessel Insight is a combination of hardware and software to conduct a broad range of data analytics related to fuel consumption, engine state and load, and generator state.
Looking out over the conference hall, one was able to grab a brief glimmer of the future state of ocean going vessels. Over time, vessels will be more automated and produce fewer emissions. Decision making including route planning and ship maintenance will occur seamless between the few individuals onboard a vessels and a support team ashore. Wizened sailors, fleet managers, and business-minded investors will be joined by techies, programmers, and data analytics professional to propel the maritime industry into the next century.


About the author
Joseph DiRenzo is a technical project manager and professional engineer with close to 10 years of maritime experience in the US Coast Guard. His last tour was at the Coast Guard Research and Development Center in New London, CT where, among other projects, he led a feasibility study on the use of Liquefied Natural Gas (LNG) for the Coast Guard's new fleet of Inland River Tenders. With a strong interest in renewable maritime technology, he received a Fulbright Scholarship in 2012 to study maritime Natural Gas Technology at the Norwegian University of Science and Technology in Trondheim, Norway. He has written a number of articles in trade publications and academic journals on the use of LNG in the maritime sector. During his Coast Guard career, he served on two different vessels, including a department head tour as an Operations Officer, conducting a multitude of maritime missions on both coasts of the United States.