Northern Sea Route – Maritime Rescue Centers Planned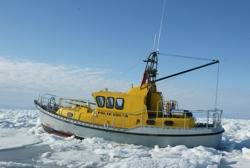 Russia plans to open the first of 10 search & rescue centers this summer
The first, in Dudinka, will become operational in time for this year's Northern Sea Route navigable season, according to a report on Russia's 'Arcticuniverse' online publication.
Russia is investing in the future of the northern Sea Route and is to spend nearly €23.4 million in development of ten centers from Murmansk in the West to Chukotka in the East.
Three of the centers will be located on Chukotka and Anadyr, the other seven in Murmansk, Arkhangelsk, Naryan-Mar, Vorkuta, Nadym, Dudinka and Tiksi. A total of 980 persons will be working at the centers.
"It is our intention to turn the Northern Sea Route into a key transport route of global importance", Prime Minister Vladimir Putin has said." "We believe that NSR has a bright future as an international transport artery capable of being a competitor to more traditional routes, both when it comes to price, safety and quality".
The main challenges for a more use of the sea route are the need for new icebreakers and the lack of infrastructure, first of all instruments for navigation and communication and bases for search and rescue services.