New OPDR Service Links Spain with Northern Europe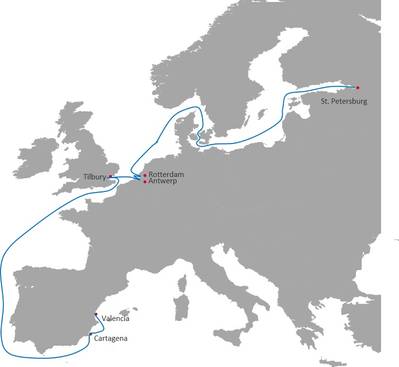 OPDR introduces new service: CAVA offers connection between the Spanish east coast, northern Europe and Saint Petersburg
OPDR announced its new CAVA service, starting June 7, to connect the Spanish east coast
with northern Europea
n ports, including Saint Petersburg. It will further increase OPDR's weekly sailings from the
Iberian Peninsula
to Northern European ports to 23 sailings per week.
The new service links the Spanish ports Valencia and Cartagena to four ports in northern Europe: Tilbury, Antwerp, Rotterdam and Saint Petersburg. Therefore, the new CAVA service is particularly interesting for customers in the business of fast moving goods, such as producers and exporters of fruits and vegetables, retailers or wine traders.
The provided transit times rank among the best in the market, the shipper said: Cartagena is linked to Tilbury in five days and Saint Petersburg is reached six days later – including two stopovers in Antwerp and Rotterdam.
OPDR will start the new service on June 7 in Valencia, followed by Cartagena, before it proceeds on his way to the north the following day. All ships deployed in this service are equipped to carry pallet-wide equipment, providing a competitive advantage since it allows the customers to ship more goods per container.