Norway to Build the World's First Ship Tunnel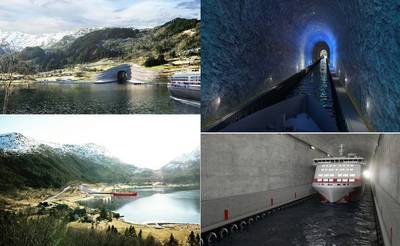 Norway is going to build the world's first tunnel for ships, a 1,700-meter (5,610-feet) which will cost over $300 million USD (NOK 2.7 billion) and allow cruise ships to bypass the most risky area along the coast of Norway.
The Norwegian Coastal Administration (NCA) will spearhead the project which is expected to start in 2019.
The passageway burrowed through a piece of rocky peninsula will allow vessels to avoid a treacherous part of sea. Construction of the Stad Ship Tunnel, which would be able to accommodate cruise and freight ships weighing up to 16,000 tons, is expected to open in 2023.
Terje Andreassen, project manager for Stad ship tunnel at NCA, said, "There are still many pieces of the puzzle that need to be put into place before construction can start, but we have previously stated that the actual construction could be at the earliest in 2019."
As per plans, the megastructure has a ground to ceiling height of 49 meters, a cross-sectional area of 1625m2 and a width of 36m between tunnel walls.
Passenger ships will be given priority but leisure boats and other vessels will also be able to use the tunnel. It will be free for vessels measuring less than 70 metres .
Travel time between Norwegian cities and towns in the area would be reduced due to the planned detour short-cut.