MaK Marine Engines Power Norwegian Epic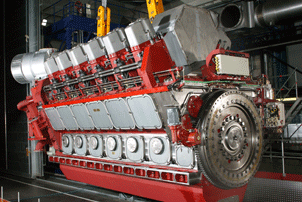 The Norwegian Epic departed the STX France Shipyard on 17 June 2010 heading towards New York City for its inaugural event. The power behind the massive vessel is the most innovative power plant that has ever been provided from Caterpillar Marine Power Systems – 3x MaK 12 M 43 C and 3x MaK 16 M 43 C vee-type engines.

With discussions and planning dating back to late 2006 on Norwegian Cruise Line's (NCL) F3 project, Caterpillar Marine Power Systems was chosen to power the new vessel based on a proven legacy of powering cruise ships with the M 43 C vee-type engine design and a focus on environmental protection.

The six engines meet DNV Clean Design requirements reducing NOx emissions and rely on a lower cylinder rating to decrease fuel consumption and CO2 emissions. This is accomplished through the long-stroke engine design combined with Flexible Camshaft Technology (FCT), a concept which achieves synergy between flexible fuel systems and advanced air systems with maximum utilization of the current engine design. With FCT, valve timing changes at part load to raise effective compression and enhance complete combustion. The result with the M 43 C engine is invisible smoke emissions at any load point, even with economical burning of heavy fuel oils.

The 150,000-ton, 4,200 passenger vessel utilizes a diesel-electric set up, with the six long-stroke MaK engines providing a total of 79.8 MW for ship propulsion and on-board electricity supply. These engines then drive high-torque density induction motors fed by PWM converters, which were supplied by Converteam. This installation reduces overall acoustic noise and vibration levels, two critical requirements for cruise ships. Additionally, because of the collaboration between Caterpillar and Converteam, the diesel electric power plant will reduce maintenance time and overall life cycle costs for NCL.

The engines were developed and manufactured by Caterpillar Motoren GmbH & Co KG and project management was in the hands of specialists from Caterpillar Marine Power Systems in Hamburg and Kiel. France-based MaK dealer Moteur Marine was responsible for taking the engines into operation and US-based MaK dealer Louisiana Machinery Power Systems will cater to future engine service.

The engines all passed comprehensive testing at Caterpillar Motoren's facility in Rostock, Germany. All crucial parameters related to pressure, temperature, vibration, noise, heat radiation, fuel consumption and emissions have met or exceeded the specified values. Additionally, the vessel made numerous sea trials throughout the build process and exceeded expectations of the testers on board due to its high performance level.

Following her inaugural activities in New York City over the American Fourth of July holiday, the vessel will spend the next year cruising to the Eastern and Western Caribbean from its home in Miami before returning for Mediterranean cruises during the 2011 European cruise season. With nearly 4,200 passengers on board, the Norwegian Epic will become the largest ship to ever spend a cruise season in the Mediterranean.