Orca ESS Retrofit for Norwegian Research Vessel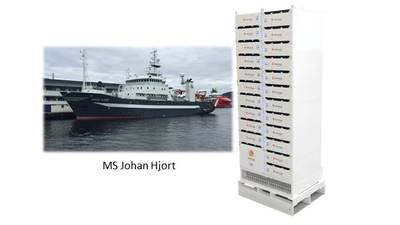 Corvus Energy's next generation Orca ESS has been selected by Halvorsen for the retrofit of the fisheries and environmental research vessel MS Johan Hjort.
Halvorsen Power System AS has selected Corvus Energy as the supplier of the lithium ion
based energy storage system
(ESS) for a retrofit of marine research vessel, MS Johan Hjort. Corvus will supply its recently released, next generation Orca Energy solution to provide power to the vessel for peak shaving, research operations and crew comfort.
Orca Energy is part of the recently announced
Orca ESS product line
from Corvus which is specifically designed for maritime applications.
"The selection of Orca Energy for this retrofit project confirms the applicability of the Orca product line for many types of applications along the entire energy-power continuum," said Halvard Hauso, EVP Sales & Marketing at Corvus. In addition to the purpose built performance characteristics, the Orca product line also includes cell-level thermal runaway isolation which does not require active cooling techniques such as liquid cooling to be effective.
The 64-meter research vessel John Hjort is equipped for fisheries and environmental research and will mainly operate in the Norwegian Exclusive Economic Zone. The onboard equipment includes advanced acoustic instruments for fish detection and echo integration and gear for operating various types of bottom and mid water trawls, various types of plankton samplers, CTD and other lowering probes and water samplers for environmental observation.
"After extensive due diligence, Halvorsen selected Corvus' Orca Energy ESS due to their breadth of experience in the industry, and the extremely compelling performance, safety and economic benefits of Orca," said Hans Petter Heggebø, Managing Director at Halvorsen Power System AS.
As a manufacturer of
energy storage systems
for maritime applications, Corvus designed and built the Orca ESS solutions portfolio based on the experience from more than 50 vessels utilizing a Corvus ESS, totaling over 35MWh and 1 million operating hours. Rather than a single product, the Orca ESS product line delivers a range of products which are designed to meet the needs of various marine customers. Orca Energy is suited for applications that require large amounts of
energy such
as ferries and merchant vessels, while Orca Power has been designed for applications that require a seamless response to dynamic power loads such as offshore supply vessels and port equipment.