Nupas-Cadmatic the Choice for Sietas' Jack Up Transport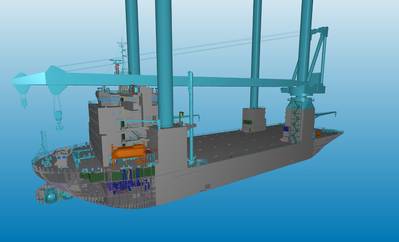 The German-based Shipyard J.J. Sietas, used Nupas-Cadmatic for its intricate offshore wind farm transport and installation vessel.
The jack-up was developed for use near the coast in offshore wind parks. The vessel required a complex design in order to operate reliably, quickly and hold a stable position, even in heavy seas. JJ Sietas required software that could efficiently cope with these characteristics. With the use of Nupas-Cadmatic J.J. Sietas managed to reduce the design and engineering time to a minimum. The first vessel, to be named the Aeolus, will be launched in the first quarter of 2013.

The ship will be available in two types: type 187, designed to carry loads up to 900 tonnes and type 187a, designed to carry loads up to 1200 tonnes. Both have NMF cranes negating the need for port-cranes when loading. This gives the ships high flexibility while in port. The ships use four 4320 kW diesel-electric engines to power 2 x 2500 kW bow thrusters, 2 x 2500 kW stern thrusters and 4 x 2500 kW electric engines for propulsion. This provides the ships with high manoeuvrability while installing wind turbines and independence from tug vessels, since it can use its own propulsion for transport to the field with a top speed of 12 knots.

- J.J. Sietas will continue to design, build and construct future-development offshore ships and vessels based on innovative ideas and integral concepts with outstanding profitability for the offshore wind energy sector. Nupas-Cadmatic enables us to deliver these vessels in minimal time from concept up to the delivery. - Katharina Voigt, Diplom- Ingenieur / Naval architect, Project Management.

The ships have an overall length of 139.40 meters and a moulded breath of 38.00 meter. The gross tonnage is 14800 tdw and the depth 9.12 meters. The four jack-up legs have a length of 81 meters and a diameter of 4.5 meters. The maximum lifting speed while fully loaded is 0,40 meters/minute.

Both types will provide accommodation for 74 crew and will have a cargo deck space measuring 3300m2 (101.00m x 38.00m).

The ships are being designed and built for the Dutch contractor van Oord, that will own and operate the vessels for installation of wind farms. Van Oord has been involved in a large number of offshore wind energy projects in the past decade. Their involvement originally focused on construction activities such as export and inter-array cable installation, scour protection and seabed preparation. The company has expanded its activities with foundation and turbine installation to provide clients with an integrated installation package.