NY Waterway's New Ferry Franklin Delano Roosevelt Enters Service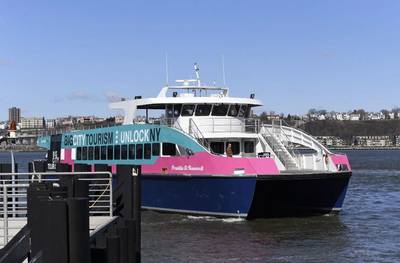 A new passenger vessel entered service for operator NY Waterway, serving as both a commuter ferry and for scenic tours of the harbor with Big City Tourism.
Built locally by New Jersey-based Yank Marine in Tuckahoe, N.J., the 599-passenger Franklin Delano Roosevelt was christened Thursday during a ceremony at Pier 79 in Midtown Manhattan.
The FDR is powered by low-emission 2,000-horsepower twin EPA Tier 3 compliant engines and has a service speed of 21 knots. The FDR is 109 feet long and 32 feet wide and draws just six feet of water depth.
The new vessel has already seen a lot of action. While in use for a harbor tour in December 2022, the vessel responded to the scene of a Staten Island Ferry stranded by an engine fire, rescuing 558 passengers. During the christening ceremony, the FDR got a proper send-off at a special ceremony where crew members were also recognized and honored for their participation in the rescue.
"This is a remarkable boat with a remarkable crew. We are so proud of the NY Waterway team that helped shepherd hundreds of passengers to safety during a time of trouble. As a leader on sustainable operations, we are just as proud that the Franklin D. Roosevelt is the most advanced ferry in the NY Waterway fleet and represents our vision of the future of the harbor, enhancing the environment and boosting tourism as the region continues to bounce back from the pandemic," said NY Waterway CEO Armand Pohan. "We are delighted to have a high-energy partner like Big City Tourism that's committed to bringing the sights and sounds of the harbor to visitors from all over the world."
"We are honored to have this relationship with NY Waterway," said Big City Tourism President & Founder Kareem Holmes. "We came to them as a small, black-owned business with a mission to showcase New York City in the best possible light, while providing people with experiences and memories to last a lifetime. They immediately understood and embraced what we set out to do, and we look forward to a long association with NY Waterway and the Franklin Delano Roosevelt."