Ocean Express Network Incurs a USD600 mln Loss in First Year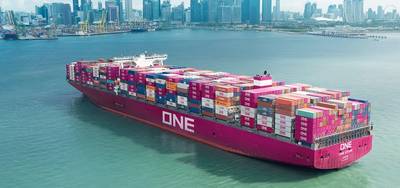 Japanese carrier Ocean Network Express (ONE) is set to see losses spiral to $600m in its first year, says its revised consolidated business forecast for FY2018 (April 1, 2018 to March 31, 2019).

The integrated container shipping operating company, which was established by Kawasaki Kisen Kaisha, Ltd., Mitsui O.S.K. Lines Ltd., and Nippon Yusen Kabushiki Kaisha, said in a press statement that the loss is attributed to its struggle with a new information technology, staff shortages and a rapidly rising fuel costs.

Singapore-headquartered ONE, after formed in April, pumped $3 billion to merge their container operations. The company had originally forecast a $110 million annual profit.

"For the first half of the fiscal year, synergistic effects of the business integration have emerged steadily. On the other hand, liftings and utilization dropped due to the impact of teething problems immediately after the commencement of services in April of this year," said the press statement.

The teething problems regarding ONE's services have already been resolved, and both ONE Holdings and ONE are working earnestly to restore the trust of customers and further improve service quality.

However, liftings and utilization are still on the way to recovery, and the target for additional cost reduction to address increased bunker prices, is expected to be lower than the target in the previously announced forecast. Therefore, ONE made a downward revision in the previously announced full-year business forecast as well, it said.

ONE has also been hit by higher bunker prices, which have impacted the results of companies across the container shipping sector.