Sartor Offshore Rescue, $52M in New Business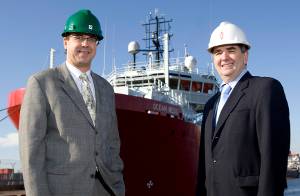 Aberdeen-based Sartor Offshore Rescue Ltd has won work with a total value of $52m in the first two months of the year to provide emergency rescue and recovery services in the North Sea. Among several new contracts is one to supply Total E&P UK Ltd with the Ocean Ness for up to 10 years, securing at least 30 jobs. The field support vessel will depart Aberdeen at the end of March for its 130 nautical miles (240 km) to Total's Elgin and Franklin fields in the Central North Sea. Sartor Offshore Rescue currently manages a fleet of 13 ERRVs (emergency response rescue vessel), MRVs (multi-role vessel) and PSVs (platform supply vessel) out of Aberdeen, all of which are working in the North Sea with one leaving shortly to take up a contract in Brazil.

The Ocean Ness (1864 gross tonnes) is designed for offshore rescue, tanker and field assistance, towing and carrying and unloading cargo to rigs and production platforms. The vessel has recently completed a 10-year contract with Shell and TAQA supporting the Tern, Eider & North Cormorant fields. It has a capacity for 300 survivors if required and is equipped with two fast rescue and two daughter craft. Sartor Offshore Rescue employs 300 people and provides multi-role offshore and emergency rescue and response vessels for many of the oil majors operating in the North Sea. Sartor Offshore Rescue is a part of the Sartor Offshore Group.